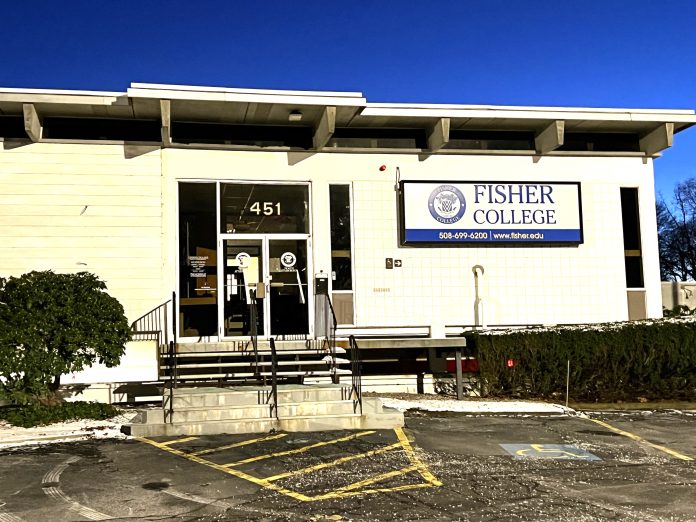 After months of discussions and negotiations, the Town Council voted to finalize the purchase of the Fisher College building on 451 Elm St.
The council voted 5-0 on Oct. 11 to approve an agreement made in April by Town Manager Michael Borg and lawyers from the school to sell the building for $3.2 million. The site is slated to be repurposed into a regional food pantry and senior center. The Boston-based school put its North Attleborough building up for sale last December as students transitioned to online learning over the last several years.  
Councilors Daniel Donovan, Andrew Shanahan, Darius Gregory, and Mark Gould were absent from the meeting.
Council Vice President John Simmons, who voted in favor of the purchase, said the building's size, proximity from the MBTA station in Attleboro, and elevators for transporting food and those with impaired mobility were necessary for the proposed food pantry and senior center to function. Additionally, the ScribbleTime early learning facility will remain at the site to provide programs for children.
According to Simmons, the closed Allen Avenue School was viewed as a potential site for the project. However, the costs to renovate and restructure it increased from $5 to $7 million over the past year, due to inflation. With the deal approved by the council, the Allen Avenue School will be placed on the town's tax rolls.
"This building is a little over twice the size of Allen Avenue," Simmons said of the Fisher College building. "This will allow us to develop, lease, and return the Allen Avenue property."
Borg estimated the purchase would be finalized by September, but the proposal stalled due to concerns about the excessive vapor in the building caused by urban soil and recent flooding in the parking lot. It is still being determined when the building will begin conversion into a food distribution site, but Borg said the benefits it will bring are worth the wait.
"We saw this as an opportunity and at no cost to existing budget taxpayer dollars," Borg said. "Bristol County is on board with this. We got unanimous support from the rest of Bristol County and we were told what an awesome idea this is."
Council President Justin Pare said the town has been looking for a new home for their senior center for some time. The current building, the Howard Estate, is leased by the town and that lease is set to expire in two years. Built in 1864, the house has been the town's Senior Center since 1975.
"The space is inadequate for the size and needs of our senior community," Pare said. "If the Fisher College building is used as a new senior center, we'd likely stop renting the current building."