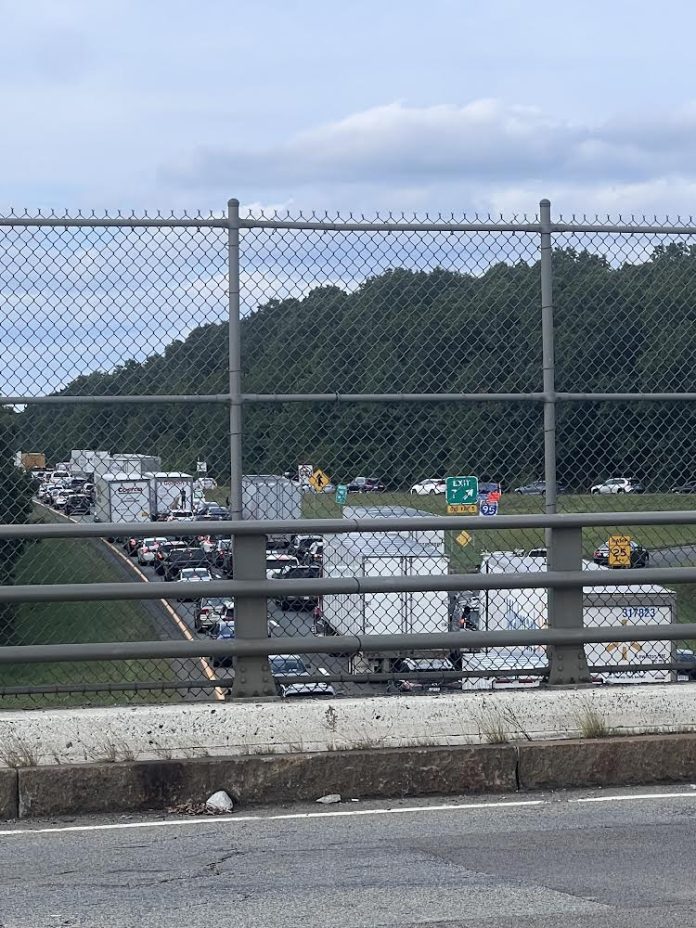 A former Rhode Island State Police Trooper died Oct. 6 from injuries he sustained from a multi-vehicle crash on I-95 in North Attleborough, a Bristol County District Attorney's Office spokesman said.
The DA's Office identified the retired trooper as James Griffin, 61, of Providence, who was injured in a crash involving three vehicles on Aug 28.
Griffin is survived by his wife, Michala Hilario, and his stepdaughter, Rylie. According to his obituary, he served 17 years as a state trooper and corporal, working in the patrol, motorcycle and K-9 units until a job-related back injury forced him to retire in 1986. He went on to join the elite Blackwater international private military firm, where he worked with security teams assigned to protect high-ranking diplomats and international musicians. He went on to become a board member at the Thomas C. Slater Compassion Center in Providence, the first medical and adult-use cannabis dispensary in Rhode Island.
According to the DA's Office, Griffin was driving on I-95 in a white Cadillac Escalade when a gray Buick, traveling southbound, made contact, causing Griffin to cross the median into the northbound lanes and crash head-on with a black 2015 Jaguar XJ driven by Randall Ricketts, 58, of Foxboro.  
Officers then received a call regarding the crash at 4 p.m. They found the Cadillac with heavy front-end damage and a black 2015 Jaguar XJ with extensive damage that made the vehicle "almost unrecognizable," according to District Attorney Thomas Quinn.
The crash caused all northbound lanes on I-95 to be closed until 8 p.m. as emergency vehicles secured the area.
According to the North Attleborough Fire Department, Griffin and Rickets were trapped inside their vehicles and freed by rescue crews using a hydraulic power-cutting tool.
Griffin and two occupants in the Cadillac were transported to Rhode Island Hospital for injuries.
Rickets was transported from the scene to Sturdy Memorial Hospital in Attleboro. He was pronounced dead shortly after arrival.
The driver of the Buick, Joseph Pompei, 50, of Cranston R.I., was found and arrested by Massachusetts State Police and Attleboro Police at approximately 5 p.m. that day.
Pompei was arrested on charges of motor vehicle homicide by negligent operation, leaving the scene of an accident resulting in death, and two counts of leaving the scene of an accident causing personal injury, according to the DA's Office,
Pompei was arraigned and entered a not-guilty plea on Aug 29 in Attleboro District Court, where he was held on $50,000 cash bail.