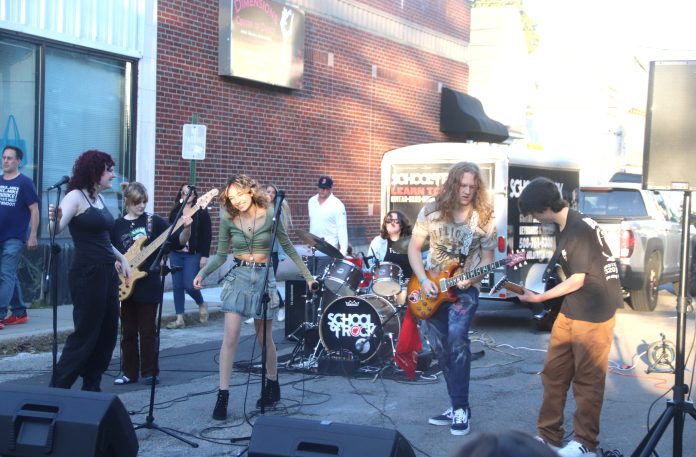 The stretch of pavement from Town Hall to the Whisk and Paddle bakery on S. Washington Street was packed with pedestrians enjoying the festivities at the third annual Downtown North Attleborough Collaborative Block Party.
Over 100 vendors and booths were lined up and down the street on the evening of Sept. 20 as people of all ages enjoyed live performances, local food, and activities such as face painting, a large game of Connect Four, and a miniature bounce house.
Children met Princess Elsa from Disney's Frozen, who painted their faces, while adults could view new vendors and enjoy a tasting at a beer garden.
Restaurants at the event included Jay's Indian Kitchen, Mackie's Family Dining and Los Antojitos. Lines of nearly 20 people per restaurant were scattered throughout the street, with customers wanting to try local businesses' foods.
The block party is run by a collaborative group of business owners and volunteers led by Town Councilor Annie Slobogan, who launched the first party in 2021 after its discontinuation in 2013.
"The overall feeling among attendees was that it was even busier than last year, and last year's event was already quite busy," Slobogan said. "I can honestly say it was a magical night where our community came together to celebrate North Attleborough."
A tradition of the block party was the showcase of classic cars. Owners of thunderbirds, jeeps, Cadillacs, and even motorcycles proudly displayed their vehicles at the end of S. Washington Street as people asked about the history of each one.
Quintin Simmons brought his orange 1980 El Camino to the party and decorated it with skeletons and other Halloween decorations.
Simmons said he bought the car six years ago and does routine maintenance daily. He said he brought the vehicle to the event to show people his passion for old cars and how much effort he has put into restoring the El Camino.
"It's the blood sweat and tears that you put into it," Simmons said. "It's the time you take when it's nothing and then you build it into something."
State Rep. Adam Scanlon (D-North Attleborough) said that the party embodied North Attleborough's spirit and the community's importance.
Scanlon noted that the event came two weeks after flash floods caused damage to more than 200 homes and town infrastructure. He said that North Attleborough residents can come together and celebrate even after the disaster.
"It was a difficult two weeks for many residents," Scanlon said. "It's very nice to see people celebrate our community and who we are."