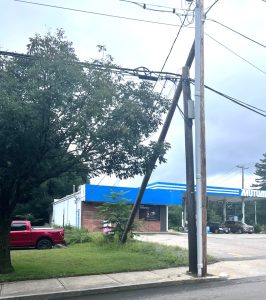 When Kristine Bonneau discovered that a flood made her house on Paine Road unlivable, she was shocked.
Bonneau's house sustained damage from a flash flood on the evening of Sept. 11 caused by a rainstorm in North Attleborough. The rain was so heavy that the trampoline Bonneau's children used in their backyard was almost full of rainwater.
"We had six feet of water rush into our house last night in a 30-minute window," Bonneau said. "The building inspector just put a cease-and-desist sign on our house saying we cannot live in it."
Bonneau is one of many residents affected by the storm, which caused damage to 200 homes in North Attleborough. More than 10 inches of rain fell during the evening, and more than 2,000 power outages were reported.
Aidan Harding, a graduate assistant at Bryant Athletics, said he found out from his mother that the basement of his house was flooded during an evening class.
"I had been getting texts from my mother between 7:30 and 8 p.m. saying the rain was picking up and we were getting a lot of water in the basement," Harding said. "I had never seen anything like it. The pumps we had going just couldn't keep up with the amount of water coming inside. It was scary once I saw it."
Karen Slawson, who lives on Hoppin Hill Avenue, said her area received significant flooding from the storm. Hoppin Hill had been closed due to the intense flooding. Slawson said she hopes the town will provide sandbags to reduce damage in case another storm comes.
"Last night, a raging river sent water into my backyard and then across Hoppin Hill to a wooded lot where it drains out," Slawson said. "There was 12 inches of water in my cellar."
An unprecedented event
North Attleborough Fire Chief Chirs Coleman said the Sept. 11 rainstorm was unlike anything he had seen in his career.
According to Coleman, the department received 145 calls that night, and departments from 20 other towns and cities were called for assistance.
The North Attleborough Middle School was turned into a temporary shelter to keep people safe from the heavy rain.
"We had to rescue some people from their cars," Coleman said. "No civilians have been injured, but one firefighter has been. They are in stable condition."
Department of Public Works Director Mark Hollowell said that the wells, streams, The Hoppin Hill Reservoir, and the Ten-Mile River all overflowed, and some roads formed sinkholes.
Hollowell said his team had been cleaning up fallen trees and providing sandbags to residents to prevent further damage. He also recommended being cautious when drinking tap water due to the overflowing of the Adamsdale Well.
Town Manager Michael Borg said residents should take special precautions in their homes, such as cleaning every item in stormwater and staying away from electrical outlets.
"Look before you step," Borg said. "Debris, including broken bottles and nails, can cover the ground and floors after a flood."
 Gov. Healey: "It was really scary."
The following day, Gov. Maura Healey visited North Attleborough and met with Borg, Coleman, Hollowell, Rep Adam Scanlon (D-North Attleborough), Sen. Paul Feeney (D-Foxboro) and Town Council President Justin Pare to survey and assess the damage caused by the flooding.
"It was really scary," Healey said about the storm. "The amount of water that fell in just such a short time and the incredible devastation that it caused. My heart goes out to those directly impacted by this weather."
Healey received a briefing from department heads at the North Attleborough Police Station and saw fallen trees and the flooded parking at the Fisher College building on Elm Street.
Additionally, Healey met residents whose homes were damaged by the flooding, including Bonneau, who showed the governor the location of her house and detailed her experience in the flood that damaged her home.
"Everyone is trying to help," Bonneau told Healey. "It washed out the whole basement and garage."
Healey said her administration contacted the Biden Administration the morning of Sept. 12 about the flooding in North Attleborough.
She added that she will seek federal, state, and local funding for relief and rebuilding efforts.
Healey said it was also possible her administration would file a supplemental bill to allocate funds for repairs in the future.
"A lot of progress has been made," Healey said. "We are going to continue pressing on all fronts."
Scanlon said he would meet with House leadership to see the steps the legislature can take to address the flooding and even suggested a supplemental bill as a viable option.
"The important thing today is to work together," Scanlon said. "Meet people where they are and not just communicate by keyboard."