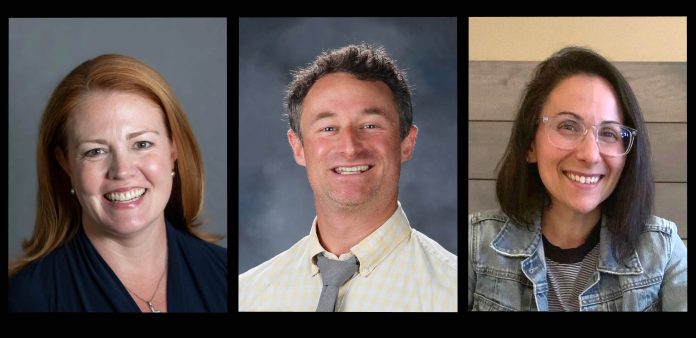 Bishop Feehan High School President Tim Sullivan '87 and Principal Sean Kane continue to add to their leadership team, announcing three key additions in time for the new school year.
Jessica Symonds came on board in July as the school's first vice president of advancement. Longtime counselor and Feehan graduate Chris Charron '01 assumed the director of school counseling role at the same time. Jessica Strunin will start in late August as the school's theatre director.
"We are thrilled to have Mrs. Symonds, Mr. Charron, and Ms. Strunin join our team at Feehan," said Sullivan. "All three come to us first and foremost with a passion for the mission of Feehan and for serving our students. Of course, they also add deep experience, talent, and know-how that will make Feehan stronger immediately. That's a great combination."
Symonds, a St. Mary's Mansfield parishioner, comes to Feehan after a decade of advancement leadership at South Shore Hospital and the South Shore Health Foundation, including a term as interim chief development officer. Before that, she served in a similar role at Norwood Hospital and as a campaign consultant with Ghiorsi & Sorrenti, Inc.
Charron is no stranger to Bishop Feehan, as the son of a long-time Feehan teacher, husband of a grad, and coach and teacher at the school since 2010. Stepping into the director of school counseling, Charron looks to build on the team approach established by long-time chair Rhonda Laliberte as the office expands to meet the needs of today's students.
Strunin comes to Feehan from the Qualters Middle School in Mansfield and has also been an active presence with the TriBoro Youth Theatre in Attleboro and the Rhode Island Philharmonic Orchestra and Music School in East Providence, Rhode Island. She has taught in public and private schools for 20 years and has directed, choreographed, and/or produced over 45 productions.
"Every Feehan success starts with the people who serve our students and mission," remarks Kane. "All three of these talented professionals bring joy and enthusiasm to their work that is obvious to everyone they meet. Sanctity. Scholarship and Sportsmanship. They represent all three very, very well."