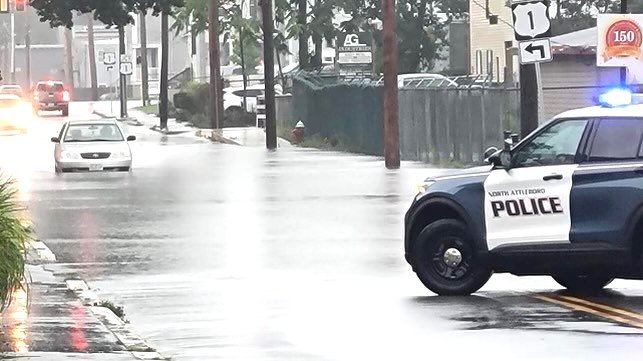 A tornado touched down in North Attleborough on Aug. 18, causing moderate damage to trees, powerlines and heavy flooding.
The National Weather Service (NWS) confirmed that an EF 1 tornado with speeds reaching 90 miles per hour touched down just over the Cumberland, Rhode Island, town at about 9:30 a.m. Cumberland borders North Attleborough.
According to the NWS, most of the damage caused by the tornado occurred at the intersection of Monticello Drive and Mendon Road.
"Many trees were snapped or uprooted," a spokesman from the NWS said. "From there, the damage was more sporadic."
The tornado then moved towards the Lisa Drive and Mary Ann Way area, leaving minor destruction of windows and more trees in its path.
According to the NWS, the tornado lifted from the ground and reappeared in Mansfield minutes later.
Resident Katie Waite said she saw the tornado near her house on Lisa Drive. She, her family, and neighbors all found shelter in their houses, and no one was hurt.
"Lots of downed trees and flung branches," Waite. "A neighbor's tree was uprooted and took out their swing set. Another neighbor lost a chicken coop."
Waite said the tornado destroyed the window in her attic. She said her insurance estimates the replacement will cost $500.
According to the North Attleborough Fire Department, the storm that generated the tornado also brought significant flooding to the downtown area.
North Washington, South Washington, East Washington and East Street were all covered in water, with cars and buses slowed down by the heavy rain. A spokesman for the fire department said they were able to clean up the streets quickly, and no one was hurt.
Tornadoes are rare in North Attleborough, as no tornado with a rating higher than EF 1 has ever touched down in the area. The most potent tornado in northwest Bristol County occurred in 1953 when an EF 3 tornado touched down in Mansfield, injuring 17 people.