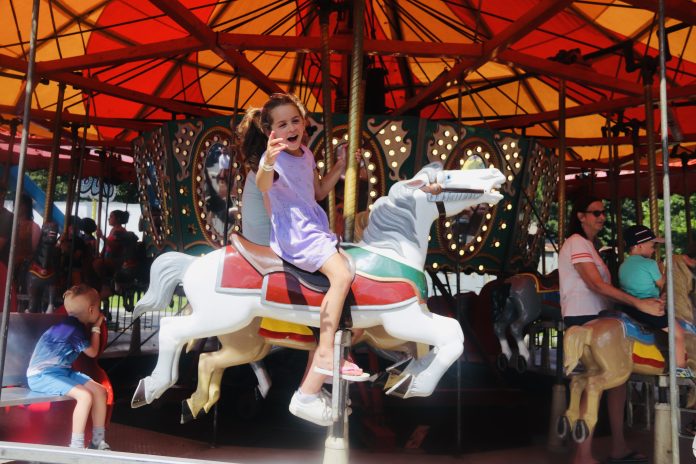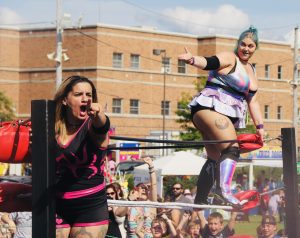 Flashing lights, painted faces, carnival games and fast rides were all found outside North Attleborough Middle School during the Firefighters Kids Day Festival.
More than a thousand people from Bristol County and out of state attended the fair from July 20 through July 23, enjoying rides, games, music, crafts, food and fireworks. Additionally, there were live musical performances by the Reminisants, Morrissey Boulevard and a special performance by the Ayla Brown Band.
Tae Oh, 11, and his friend Mason Healey, 13, said they made it a tradition to go every year. The two said the best part of the event was the rides and the rush of excitement they experienced when riding on the Thunderball roller coaster or the Zero Gravity Chamber.
"The loop-de-loop thing was pure torture," Oh laughed. "It was fun."
"I got lightheaded when riding it," Healey added. "Especially when you go up and down."
For others, the highlight of the festival was the craft fair. More than 30 different stands were set up on the field adjacent to the middle school parking lot, displaying the work of artisans throughout the region.
Alex Risotti, the founder of Color Castle, set up a mobile pottery studio for a paint-your-own class. The studio was a popular attraction as a line of 20 people stood in the hot sun to get a chance to make their pottery.
"The kids get to take it home with them right away," Risotti said. "We love doing this, and we are trying to make art accessible and affordable."
The most popular event, however, was the live pro wrestling show by New England Championship Wrestling. More than 100 people gathered around the ring to watch an array of matches, with parents and their children, some as young as 5 years old chanting to the villains and clapping for the heroes.
The North Attleboro Firefighters Kids Association is a nonprofit organization that started in 1980. Its mission is to raise funds to donate to the community for those who need it the most. The main source of income is the association's four-day event which is held in July each year. Last year the event returned following a year off due to the pandemic and had its best year ever.
Scott Langille, a firefighter and media spokesman for the organization, said the turnout for 2023 had been strong.
As a child, Langille's favorite attraction was a large bonfire, though one would not be present this year.
"Unfortunately, we can't do that anymore," Langille said.
Deb Cooper, who is married to a firefighter of 34 years, has worked as a volunteer for the event for more than 18 years. She said it is a privilege to help set up for the festival and taught her daughter, Teyla Cooper, how to volunteer.
"We set up the benches, we set up the fans to keep everyone cool," Cooper said. "You know it's just a fun event to have and it really shows that the firefighters care for this community and they want to give back to those who are in need."