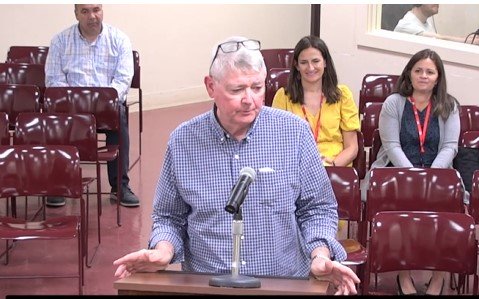 Francis Ward and the Richards Memorial Library are almost inseparable.
As the library's director, Ward can be seen by the front desk recommending books, offering free use of the computers, or encouraging patrons to check out the library museum.
Now, after a 34-year career, he said it is time to turn the page on this chapter of his life.
Ward, 63, plans to officially retire from his position as library director this year on Sept. 6—the same day he was appointed to the position in 2000.
"I chose this date because it was symmetrical," Ward said. "It was that day when I was appointed to be director of the Richards Memorial Library."
Ward said his decision to retire was personal for him. He said he wanted to pursue other interests in his life and spend time with friends and family in his home of Providence, R.I.
"My father died at 54, and I did not want to run out of time," he said. "I have plenty of interests, but the one I am most interested in is taking care of our new dog Dia."
Before becoming director, Ward was an adult services librarian in 1989. His responsibilities were to assist with general collection management, including materials in science fiction, fantasy, health, fitness, history and other genres. He was promoted to the position of associate director 1994, the first in the library's history. In 2000, when the previous director, Hilding Hedberg, left her position, Ward was nominated as her successor.
As director, Ward helped the library grow by installing new technology and holding activities for people of all ages. He said the most popular type of books checked out by readers are fictional stories—specifically mysteries.
"Our use was lower during the pandemic, but that quickly changed after 2020," Ward said. "Every year, our attendance and use kept notching up to bring us back to full use. I don't see libraries going obsolete at all in the future."
While he is satisfied with the work he has done, Ward said he would miss his staff greatly. He said he is confident they will do a great job with his successor and was proud of their work ethic.
"I enjoy working with the public and my staff," Ward said. "I am very proud of the staff. The satisfaction of doing that job comes from them."
Town Manager Michael Borg said advertisements for a new library director are now available, but the town will miss Ward and thanked him for all the work he has done.
"We are sad to see Frank go," Borg said. "We are going to miss Frank. It's very tough shoes to fill going forward."
While the story of his career as director is coming to an end, Ward said his love for libraries will always be a part of who he is. In a digital age where some forms of entertainment require a paid subscription, Ward said libraries offer valuable information for no charge at all.
"It's the only public space in the town that is truly free," Ward said. "People can just go in for whatever reason they want. They can use the computers for free at the library, but at places like Starbucks you have to pay for the internet. I don't see libraries dying anytime soon."