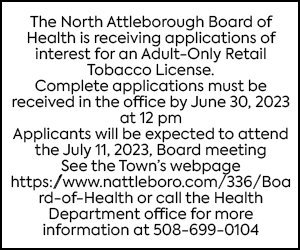 Town Manager Michael Borg unveiled a framework for an initiative designed to help grow North Attleborough businesses.
During the Economic Growth and Sustainability Subcommittee meeting on May 22, Borg presented a blueprint of the North Attleborough Business Accelerator (NABA), a program that provides grants to expand businesses and encourage more economic growth in the town.
"NABA will serve business and entrepreneurs throughout North Attleborough," Borg said. "This will be done through expansion of current business, or exciting new opportunities, foster innovation, and expand economic development within our community."
Under the framework guidelines, businesses can apply for economic development opportunity grants worth up to $25,000. Businesses are required to submit a 51-question application and give a presentation to a special committee for funding consideration. The committee would consist of Borg, Economic Development Coordinator Lyle Pirnie, President of the United Regional Chamber of Commerce Jack Lank, South Eastern Economic Development Vice President Susan Murray, a member of the Town Council or Town Council Economic Development Subcommittee, Town Planner Gil Hilario or a representative from the Planning Board, and a resident.
After approval, the selected applications must submit two quarterly reports and attend designated mentoring sessions. Borg said NABA would run from June 15, 2023, to April 2024. Interviews for potential applicants will take place on July 7. The Economic Development Subcommittee must review the proposal before referring their decision to the full council.
"The culmination event is the presentation to the Economic Development Subcommittee on their results and outcomes," Borg said. "Select applicants will also be afforded the ability to connect with other select applicants. This networking ability provides the opportunity to problem-solve and expand their networks."
Darius Gregory, the subcommittee chairman, said he was impressed with the blueprint.
"I was a huge advocate for this when Mr. Borg first brought this to my attention in January," he said. "It was a huge priority for me and when I saw that he was thinking creatively outside of the box, I said this is the kind of forward-thinking that we need."
Still, Gregory said the framework will still receive a review to fix technical details, such as the implementation of the timeline.
"The plan is all ready to go. We're having a working meeting to get an idea of the direction," Gregory said. "We can figure this out."
Originally, Borg wanted to allocate $100,000 in American Rescue Plan Act (ARPA) funds for NABA. Those plans changed after Sen. Paul Feeney (D-Foxboro) secured a $150,000 earmark for the initiative in a $3.76 billion economic development bill signed by former Gov. Charlie Baker in 2022.