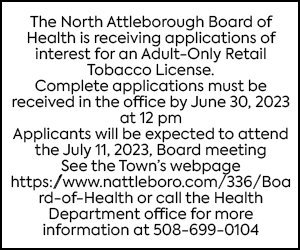 The Roosevelt Avenue Elementary School is raising funds for a new playground, and Rep. Adam Scanlon (D-North Attleborough) is.doing what he can to help.
An amendment filed by Scanlon allocating $100,000 towards the playground was approved in the $56.2 billion budget passed by the House of Representatives. Scanlon announced its inclusion on April 24.
"It has been a pleasure to collaborate with parents and local officials on these important projects," Scanlon said. "Thank you to Speaker Mariano and Chair Michlewitz for their leadership."
Additionally, Scanlon filed amendments to allocate funding the Downtown North Attleborough Collaborative, The Greater Attleboro Area Council for Children, new equipment for the North Attleborough High School band, the North Attleborough Animal Shelter, and the North Attleborough Global War on Terror monument. As lawmakers met behind closed doors to debate, Scanlon provided updates on the amendments over Facebook. The bill now heads to the Senate, which expects to release its budget this month.
Roosevelt Elementary Principal Jeannine Magliocco said she was elated that Scanlon's amendment passed and thanked him for his help.
"I am appreciative and in awe of his level of support given the position he holds," Magliocco said. "He's paying close attention to my little school in North Attleborough and he wants to be a part of it."
A committee exploring the creation of a new playground was formed in 2019. In March 2020, meetings were paused due to the spread of COVID-19. By 2023 however, the fundraising efforts resumed, with the committee raising $8,700 as of May 5.
Based on a preliminary quote, Magliocco said the cost of the playground equipment, along qith the installation and rubber base is $254,438.. Magiilocco said another fundraiser will be held on June 3 at the school.
"We are going to keep that ball rolling," she said. "We've been slowly adding fundraising to the initiative."
Donations to the new playground can be made via Venmo @RAPTG. Checks can be made out to RAPTG and sent to Roosevelt Avenue School, 108 Roosevelt Ave., North Attleborough MA, 02760.