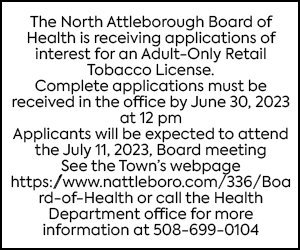 Four new officers joined the ranks of the North Attleborough Police Department (NAPD), according to Chief of Police Richard McQuade.
Officers Nicholas McMahon, Manuel Pereira, Mark Nicholson and Joseph Malewicz, joined the force in March after graduating from the Municipal Police Training Committee Regional Police Academy in Boylston.
McQuade introduced the officers during a Town Council meeting on April 24, and spoke of their academy education.
"While they were in the academy, they learned several disciplines," McQuade said. "These include criminal procedure, constitutional law, firearms, emergency vehicle operations, de-escalation training and impartial policing."
McQuade said the officers are undergoing three months of rotating field training and evaluation to learn how to function as a solo beat officer. He said the four have received nothing but good marks so far in their training.
"According to their FTO's (Field Training Officer) they are doing good so far," McQuade said. "They are passing with flying colors."
The new hires are part of a recruitment campaign by the NAPD. In the Fiscal Year 2024 budget, the proposed salaries for officers increased by 8 % from last year. McQuade told the council he would continue to bring more members into the force.
"I told you I would come back with more recruits," he told the council. "True to my word, we are back with more recruits."'
As for the four new officers, they said they like the community and its people. McMahon, 28, said he hasn't had any issues adjusting to his new job in North Attleborough. Nicholson, 23, agreed with McMahon and said he is beginning to establish a good relationship with residents in town.
"The community respects you," Nicholson said. "There's a lot of people who like what you do here."