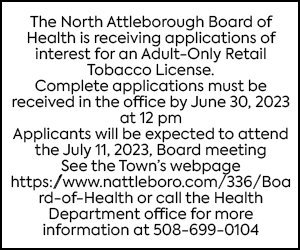 Tasha Buzzell built her career helping children.
From working as an attorney on child custody cases to serving on the North Attleborough School Committee for three years, her goal is to help the families in her comunity. Buzzell, 42, is now starting a new chapter as the chairwoman of the North Attleborough School Committee.
Buzzell was unanimously elected as chairwoman at the committee meeting on April 5. She succeeded outgoing Chairman Ethan Hamilton, who nominated Buzzell for the position. Buzzell is the first female chairwoman since Catherine Shuman, who held the position in 2000.
After becoming chairwoman, Buzzell said she spoke with Town Council President Justin Pare and Town Manager Michael Borg to discuss school security amidst the rise of phone threats directed towards North Attleborough schools. The committee and the town council will hold an executive session on the matter on April 24.
"School safety is a priority," Buzzell said. "I have three kids and I think about them all the time. You learn to deal with it even when you don't want to learn to deal with it."
Another concern Buzzell heard from parents is about elementary school infrastructure. Residents have asked elected officials for greater investment in the schools, citing the need for a new playground at the Roosevelt and Falls Elementary.
In response, Buzzell has suggested the town consider a long-term strategy to build a community complex accommodating all elementary school students similar to the middle and high school. She said having all students in the same building provides more consistency and helps save money on staff hires and school maintenance.
"The reason we had different elementary schools was because it was based on a neighborhood model," she explained. "Kids would go home for lunch and then come back to school, but we don't do that anymore. This would save more money in the long run."
In the short term, Buzzell said she wants to focus on improving transparency in the committee by restructuring its written agendas. Shel said the agendas for meetings provided information, but did little to increase community interest or engagement. Public engagement is important for Buzzell, who said it helps the committee gauge community support or concerns on issues.
"The agenda is put together with detail, but it does not really say what it is all about to parents or the public," Buzzell said. "It's hard for the public to get engaged."
Additionally, Buzzell said she wants to continue to engage with staff and faculty. The Spotlight Employee of the Month Award, an initiative started by Buzzell, highlights employees who rose to the occasion in their profession. After its successful launch in March 2023, Buzzell said she wants the committee to continue these awards.
"I intentionally did this to highlight the good in our schools alongside the work that needs to be done," she said. "We have 42 submissions for the month of April. That's huge."