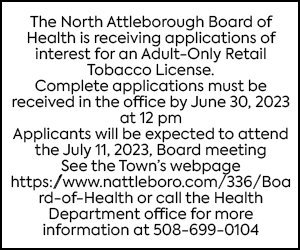 Officer Kristine Crosman, who has served with the North Attleborough Police Department for 20 years as an officer and School Resource Officer, has left the force to join the Wrentham Police Department.
Crosman announced the transfer via Facebook on April 7. She wrote that she was ready for a new beginning and that the time was right. Her first day in Wrentham was April 10.
"So surreal walking out of NAPD yesterday and knowing I am done, but I know it's the right thing to do," Crosman wrote. "Excited to start this new journey."
Crosman said her desire to prioritize community policing was one of the reasons for the transfer. She said there was not enough community policing at NAPD and doing so would make more of a difference in safety.
"I love North Attleborough, I'm a born and bred person here who went to the high school, but it's hard to put it into words," she said about her decision. "It was time for a change. I feel like a community police department needs to be proactive. You reduced the need for pulling people over by teaching seniors how to drive for example."
North Attleborough Police Chief Richard McQuade offered no comment about Crosman's transfer.
Born and raised in North Attleborough, Crosman joined the force in 2003. During her time in the NAPD, in addition to her regular duties, she would take part in Massachusetts Special Olympics events such as the Polar Plunge and the Elks Lodge cornhole tournament. In 2016, Crosman ran as a torch bearer in the World Special Olympics in Los Angeles in honor of her daughter Kailyn, who passed away in 2014 at the age of 9. Last year, she organized a Glow Dodgeball tournament to support the North Attleborough High School Unified Sports program and Massachusetts Special Olympics.
Crosman was a familiar face at many town events, such as the Back to School Shuffle and Halloween in the Park, where she would meet with residents and hand out information to children on safety.
In 2019, Crosman was appointed to the position of School Resource Officer for the town's schools. She focused on school security, meeting with administrators, and being a resource for students on safety. The job placed a significant emphasis on community and communication, two aspects of the job that she prioritizes.
"I believe in community policing," Crosman said. "Community policing is talking to people, having community events, talking to senior citizens, and not just pulling people over."
In 2022, Crosman was transferred to the patrol department due to a lack of staffing. Lawrence "Jimmy" Morse was eventually appointed to become the current SRO.
Several North Attleborough residents said they were sad to see Crosman go, as she was a constant presence in the community. Town Council Dan Donovan said he would remember Crosman for her work as an SRO.
"Thank you for your service to North Attleboro, especially to the school children." Donovan wrote. "Wrentham's gain is our loss."