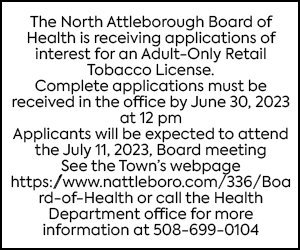 abass@northstareporter.com
In his first address to the Town Council, State Sen. Paul Feeney (D-Foxboro) discussed the progress of the state budget and legislation on Beacon Hill.
During the March 27 meeting, Feeney told councilors and members of the public that he is reviewing Gov. Maura Healey's fiscal year 2024 budget and tax relief plan. The senator acknowledged the legislature has been slow to review the budget, that the incoming Healey administration needed time to file and write the legislation.
"Usually, the budget is introduced in January," he explained to the council.  "We have a new governor, so it was filed a little later."
Feeney and said he is carefully looking over the $55.5 billion proposal to see if there is anything the legislature could add or change if necessary. As a sitting member of the Joint Committee on Ways and Means, Feeney and his colleagues are examining how the projected $40.410 billion in state tax revenue should be used for spending.
"Governor Healey's budget, H.1, aligns with that revenue—but things change as we get into the process," Feeney said. "We certainly have more weeks and months of revenue coming into the Commonwealth so we can adjust the budget accordingly."
Feeney also made clear he supports Healey's $742 million tax relief plan. Introduced on March 1, the plan calls for changes to the tax code, such as increasing the annual child and family tax credit from $240 to $600 per any dependent under age 13 or older than 65.
Some of Feeney's colleagues have expressed skepticism over some parts of Healey's tax plan—namely the proposal to raise the estate tax threshold from $1 million to $3 million. Progressive advocacy groups have decried the plan, saying it would unfairly benefit the wealthiest residents of Massachusetts. Feeney said there would be more hearings on the proposal to see if there are any needed changes, but stressed that working-class constituents deserved tax relief.
"There'll be expanded hearings on the tax package in the legislative cycle," he said. "We just want to make sure there's nothing that reduces spending in the budget."
Feeney has also been keeping a close eye on national issues–namely, the recent collapse of Silicon Valley Bank in Santa Clara, Cali.
As the chair of the Joint Committee on Financial Services Committee, Feeney said he understands the fears from constituents about a financial collapse brought about by bank failures. However, he said banks in Massachusetts were stable and any downturn does not seem imminent.
"It's been quite a learning experience to see how stable we are in our commonwealth," he said. "I've been in contact with multiple banks and we are in good shape."
Throughout 2022, the 44-year-old senator said he made several trips to North Attleborough to determine what legislation would help benefit the town. One of the most pressing issues for Feeney is housing, as he told the council there must be more across Massachusetts.
"We are not keeping up with the stock in housing that we need," Feeney said. "I think it's everything everywhere all at once. We need more production."
To help bring more affordable housing to Massachusetts, Feeney introduced legislation to establish the Missing-Middle Starter Home Development and Home Ownership Program. The bill, known as S874, would provide subsidies for new construction or acquisition and rehabilitation of owner-occupied starter homes for households with incomes between 80 and 120 percent of the area median income. The senator is also looking for incentives to bring developers to the area to build new housing.   
Feeney is not alone in these goals. State Rep. Adam Scanlon (D-North Attleborough) said he was glad to have a partner and friend in Feeney, despite the two coming from different legislative chambers and leadership.
Both Scanlon and Feeney have worked on several pieces of legislation in the past and are collaborating on new proposals. These include a bill that would expand opportunities for those seeking careers in vocational and technical fields and appealing the MBTA to fund the restoration of the South Attleboro Commuter Rail Station.