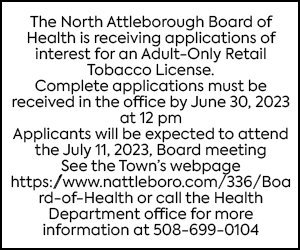 max.bowen@northstarreporter.com
A 41-year-old man who committed an unarmed robbery of a Seasons convenience store in August 2021 was sentenced to four to five years in state prison.
According to a release from the Bristol County District Attorney's office, Jason Delaney, who has no known address, pled guilty to an indictment charging him with unarmed robbery.
On Aug. 7, 2021, North Attleborough Police responded to the convenience store for the report of a panic alarm activation. When officers arrived, they met with the clerk, who reported that a male, later identified as Delaney, had entered the store and walked around for a few minutes, then left without buying anything and returned 10 minutes later.
"This defendant is a career robber and thief who clearly needs to be kept off the streets to protect the public," District Attorney Thomas Quinn III said.
When Delaney reentered the store, he let several customers go ahead of him and placed a bottle of water on the counter, according to the DA's office. When the clerk rang up the water, the cash register opened and Delaney reached over the counter, grabbed the register tray and removed some money. The man fled the store saying "don't do nothing."  Responding police did not locate the suspect, but secured a copy of the store surveillance video.
On Aug. 10, the defendant was arrested in Springfield. When detectives from North Attleborough viewed his booking photo, they believed that this same person robbed the Seasons convenience store. The victim ended up identifying this defendant during the presentation of a photo array.
Delaney has multiple prior convictions and has served prison time for unarmed robbery, armed robbery and armed carjacking.