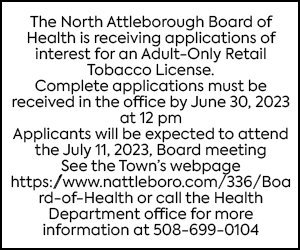 abass@northstarreporter.com
It's a dark and rainy Thursday afternoon, and a whiteboard in a Town Hall office is covered with explanations on property taxes, budgets for the fiscal year, and a timeline for Town Council meetings.
The person writing on the board is a tall man dressed in an outfit similar to a college professor, with a beard he decided to grow out for the new year.
That man is Town Manager Michael Borg, entering his third year as North Attleborough's chief executive officer. His job is to ensure the Town Council that the community is running smoothly and takes care of operations such as procurements, project management, collective bargaining with department heads and facility maintenance.
Borg said the role is—in his own words—"delightful," as he sees a period of prosperity and growth for North Attleborough as a result of work done years prior.
"When I say, it's a great day to be in North Attleborough, I really mean it," Borg said of his trademark phrase used in public speeches. "Even today when it's rainy like this, I mean it. This town has such a bright future going for it."
Highlights of last year
The year 2022 was very productive according to Borg, as several projects and proposals got underway. Highlights included the construction of new bleachers at North Attleborough High School, securing funding for the dredging of the Ten Mile River, and amending a bylaw to allow businesses to serve alcohol in small amounts on public property under specific guidelines.
The biggest accomplishment for Borg, however, is the installation of a 40R smart-growth zoning overlay on Kelley Boulevard, which would entice developers to build mixed-use projects such as affordable housing in that area.
Compared to cities like Boston, North Attleborough has more parcels of land that allow for expansive projects. Such structures could include up to 200-300 housing units for one building. Borg said areas such as 582 Kelley Blvd. provide the space needed for developers while preserving open areas for nature.
"We want to develop North Attleborough to attract the right businesses here," he said. "We're not Boston, we're not Providence, so what's going to grow the town? New growth, that's the key way."
Expanding housing options
Borg has been holding discussions with developers to turn the Sears building at the Emerald Square Mall into another housing project, with the potential to have it near retail and dining establishments, similar to Legacy Place in Dedham.
Borg's desire for more affordable housing is one he describes as "common sense," not only for those who cannot afford three or four-bedroom houses, but also for the town, which stands to gain more than $1 million in new growth. New growth is the tax revenue collected from the new valuation of a business or house that is built or renovated.
The town manager said he believes in the need for holistic housing—a term to describe a variety of houses for different people based on their stage of life—which could entice developers to invest in affordable housing in North Attleborough
"You go with density. You say we're going to build apartments that are studio, one, two-bedroom apartments with a small amount of three-bedroom units," Borg said. "The Kelley Boulevard one, which is an estimate right now, would come in at 311 units which would give us $1.3 million in new growth once it goes online."
Building a better high school
Housing is not the only goal Borg has for 2023. A study by the Massachusetts School Board Authority found the North Attleborough High School eligible for either expansion or a new building. Such an addition will require the town to have funding—either through the new growth mentioned by Borg or a voter override of Proposition 2 ½.
Borg said suggesting a Proposition 2 ½ override to voters would be a "roll of the dice" as it would ask them if they are willing to have its levy limit raised, meaning higher taxes. He also said he will need to take inflation into account, citing rising costs of construction for capital projects. The town narrowly passed an override in 2018 for $6.5 million, without the town was facing the loss of several community programs and the closure of its library.
"It would probably be three years before we see any construction, but that's the train potentially coming at us," Borg said. "Inflation is driving construction costs to go through the roof, and the Government assistance, while we appreciate it, increased the burner."
Another issue that has been brought to Borg's attention is increased speeding. In meetings with Police Chief Richard McQuade, Borg suggested ideas to reduce this, such as installing speed bumps and LED lights to warn drivers to go slowly. The two agreed that one policy that would not help reduce speeding is overt ticketing of drivers, as it would risk police-civilian relationships and waste resources.
"How are you going to create the situation where people make the right choices," Borg said of the proposals. "I've seen people speed between the speed bumps. Working together, having people put up signs, working with the residents."
Though the town manager is an executive position, Borg views it as a job for a team player. Citing his time in the Army as a colonel, the Town Manager said the lesson he takes from his job is that to have success, one must use all the tools that will help the community.
"It's not about coming in and just blasting away. It's about building roads, building wells, building businesses" Borg said. "At the end of the day, a lot of the stuff I did in the military has carried over to my job as town manager."