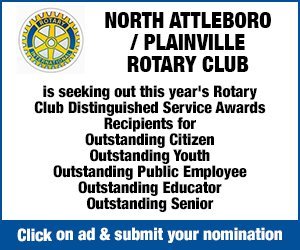 As the snow gently fell on Park Street in Attleboro, politicians and community members gathered at City Hall on Monday to commemorate the life and work of Reverend Dr. Martin Luther King Jr.
The ceremony was hosted by Ethel Garvin of the Rev. Dr. Martin Luther King Jr. Memorial Committee of Greater Attleboro. This event marked the commemoration's 36th anniversary and was the first in-person ceremony after two years of virtual celebrations.
The commemoration featured speeches by local elected officials recognizing King's dedication to ensuring affordable housing, voting rights, civil rights, income equality and enfranchisement for African Americans.
North Attleborough Rep. Adam Scanlon (D) and Attleboro Rep. Jim Hawkins (D) told the audience about lawmakers on Beacon Hill passing legislation that expanded voting access for citizens in Massachusetts. The legislation, known as the VOTES act, makes mail-in and early voting permanent in Massachusetts and increases voter education in prisons so those incarcerated under pretrial detention or a non-felony conviction can have the resources to submit an absentee ballot.
"Today is also a day to challenge us, on our ongoing work to fight injustice," Scanlon said. "We all believe in a type of politics that we can work together to lift up every single member in this community, including our black and brown population."
Other politicians who spoke at the event included the Acting Mayor of Attleboro Jay DiLisio, State Sen. Paul Feeney (D-Foxboro), and Congressman Jake Auchincloss (D) of Massachusetts's Fourth Congressional District.
Feeney's speech also focused on the efforts on Beacon Hill to expand voting rights and highlighted the importance of organizing communities. Feeney said he wishes to pass legislation that allows for same-day registration for voters in Massachusetts—a provision not included in the VOTES Act due to disagreements between the House and Senate.
"I think we can do it tomorrow, 100 percent," Feeney said. "What we have been told by Secretary of State Galvin, we can do it tomorrow. We're ready to go."
Auchincloss's speech was not only about Dr. King, about the late Congressman John Lewis (D-GA). Auchincloss said he remembers Lewis's words, "when you pray, move your feet," and how it never left his thoughts when he worked with Democrats and Republicans to advance The Electoral Count Reform Act of 2022.
The law, first introduced in the Senate, prevents ambiguities from the Electoral Count Act of 1887 about how electoral college votes are counted.
Auchincloss also discussed Dr. King's work to fight for housing and called the affordable housing crisis in Massachusetts an injustice.
"I also believe that Dr. King would recognize today the housing injustice that he was organizing in his final years." "The fair housing act was passed into law in the wake of his assassination, I'd argue far more egregiously unfulfilled in its aspirations than the Voting Rights Act."
Following the commemoration at City Hall, an interfaith service was held at the Second Congregational Church. The service featured performances by Nzinga's Daughters, a five-woman musical ensemble from New Britain, Conn., a poem from poet Tarah Agathe Valin and music pianist Daniel Hill.
The Keynote speaker for the service was Tanisha Sullivan, Esq., president of the Boston NAACP and Secretary of State candidate.
In her speech, Sullivan discussed how anyone can take action to advance voting rights, even in Massachusetts. She said while other states are being discussed on the news about laws that disenfranchise those from voting, those in Attleboro can take action in their local government to advance voting rights.
"While there are fights happening all around our country for the advancement of voting rights, there are things you can do right here in your backyard," Sullivan said. "When we think about Dr. King, one of the most pressing issues he lifted up among many was enfranchisement. He understood that we needed to fully access the right to vote and the ability to freely express that vote."
Those who attended the ceremony left with high spirits and are hoping to see more action from their local leaders.
Reverend Robin Woods-Barrant said her hope was that when meaningful legislation on housing or civil rights is introduced to the Massachusetts House or Senate, people become interested and passionate about it so it can gain traction and be passed.
"To move from speeches to actions," she said. "We must use our feet in order to put into action our words. Without action, words are meaningless."
For Richard Hardmon Sr. of Attleboro, the most important thing for him is the community coming together.
"I want to see us lifted up just like everybody else," he said.