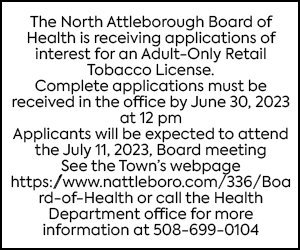 With a Dunkin' Donuts coffee in one hand and a voting card in the other, Congressman Jake Auchincloss (D-MA) said he was ready for a long day and a productive year in congress.
Auchincloss, who represents Massachusetts's Fourth Congressional District, is preparing for his second term in the House of Representatives after being re-elected in November 2022. First elected in 2020, the 34-year-old congressman from Newton is one of 213 Democrats elected to serve as the minority party in the 118th congress.
This shift in power dynamics comes after Republicans won 222 seats in the midterm elections last November.
Despite the change, Auchincloss said he is confident he can find ways to help the district–specifically through the allocation of funding for infrastructure projects.
"I am going to keep working on finding funding for infrastructure projects for North Attleborough and the rest of the district, "Auchincloss said. "During the 117th congress, we spent a lot of money on our bipartisan infrastructure bill and omnibus bill, but we have not allocated it yet. There is still money out there, regardless of whether I am in the majority or minority."
During his first term, Auchincloss served on the financial services and transportation and infrastructure committees. He also voted in favor of passing the Infrastructure Investment and Jobs Act and the Inflation Reduction Act—two bills focused on securing funding for infrastructure and clean energy projects for his district.
A legislative accomplishment Auchincloss said he was proud of was obtaining $1.5 million for a plan to dredge the Ten-Mile River in North Attleborough. A measure to prevent flooding during heavy rain or snow events, the plan aims to dredge the river between Whiting's Pond and Falls Pond. Auchincloss said the project reflects two of his priorities as a congress: infrastructure and climate related projects.
"I worked alongside State Rep. Adam Scanlon (D-North Attleborough) and local leaders of North Attleborough to make this happen," Auchincloss said of the funding. "We are going to find new projects and make them a priority."
Auchincloss also said he is ready to work with incoming Governor Maura Healey (D) and Lt. Governor Kim Driscoll (D) on a variety of issues, ranging from building more sites for offshore wind, and railroad infrastructure. The topic of housing is especially important for Auchincloss, as he considers it the biggest challenge the Commonwealth is currently facing.
"Housing is the single biggest challenge Massachusetts faces right now," he said. "I know that North Attleborough Town Manager Mike Borg is looking at zoning reform and land use, but on the federal level, we are seeing towns take advantage of the Low-Income Tax Credit Program for block grants."
Though he considers the first day a hectic one, Auchincloss said he's ready to face challenges big or small this legislative session.
"I think it's important to be a partner regardless of party," he said. "I want to be a partner on housing, on healthcare, and on other heavyweight issues."