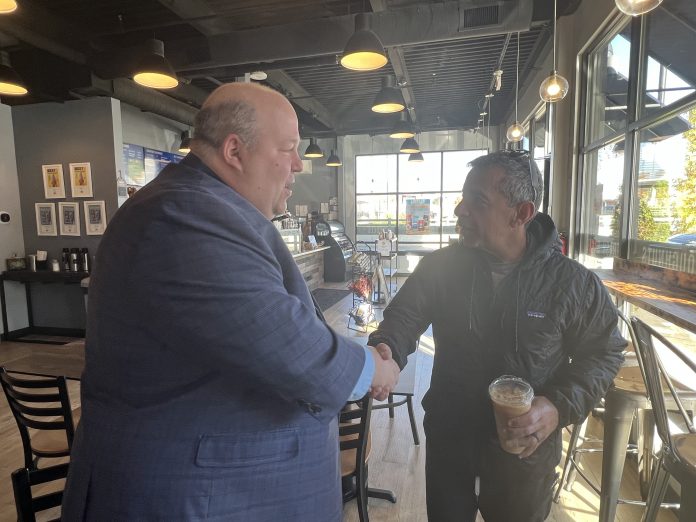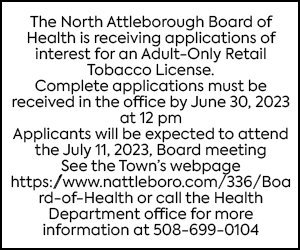 As he got ready to go to an event, Sen. Paul Feeney (D-Foxboro) was approached by Paul Michienzie–a random man who shook his hand and thanked him.
It was a surprise for Feeney, who didn't expect a stranger who wasn't part of the meet and greet to say hello, but he was happy nonetheless to talk about issues ranging from workers to the upcoming midterm elections.
"This guy is the real deal," Michienzie said. "He fights for us."
Feeney, 44, was elected to the State Senate in 2017 in a special election against Republican Jacob Ventura. He represents the Bristol and Norfolk State Senate District, which contains the towns of Foxboro, Mansfield, Norton, and after this year's redistricting—North Attleborough.
Feeney's introduction to politics began at the age of 11 when his parents received a notice from the City of Worcester's Department of Public Health saying that the well where water comes from was contaminated.
Feeney's father and mother organized and rallied neighbors and families around the area to get clean drinking water—a memory that has been etched into his mind for years.
"I remember at the time the toll it took on my family and later I thought that this is not how a government should work," Feeney said. "Why aren't people organizing, why aren't people sticking up for my family and other working-class families?"
Feeney's family moved back to Boston and attended Don Bosco Technical High School.  As his father could not afford to send him to college, Feeney worked as an office technician for Verizon. It was through these moments of hard work that Feeney found who he wanted to fight for: working-class people and families.
"It was that kind of moment of clarity that I got married, I wanted to start a family, my wife and I had the best doctors and hospitals in the world and I didn't worry about how I was going to pay for it," he said. "It was because my dad fought for those rights that we have during his 17-week strike in Worcester."
As a legislator, Feeney believes the way for the Democratic Party to be effective is to focus on working-class voters while incorporating issues such as climate change and racial equality as economic values.
He said a problem in politics for both politicians and observers is messaging created through reactions to larger events. These "knee-jerk reactions," as he calls them, can take focus away from the sole focus on helping workers.
"An example I can give you is when we were having this lengthy debate about gas pipelines in the Senate," he said. "We want to move to renewable energy, of course, we do, but we can't just flip a switch because there are workers in that field. So what I have been trying to say for the longest time is something called adjustment transition. This is where we ensure new jobs in new fields for those workers who are misplaced."
In terms of legislative accomplishments, Feeney touted his work in bringing sports betting to Massachusetts and recently, funding to support a business incubator for existing and new businesses in North Attleborough.
If elected again, Feeney seeks to pass tax relief for middle and low-income families—which were stripped from a recently passed economic development bill that is awaiting Governor Charlie Baker's signature.
"I was really upset that it wasn't included," Feeney admits. "Come next year, we are going to try and pass it. It is what working-class voters so desperately need right now since we are going to have a rough winter."