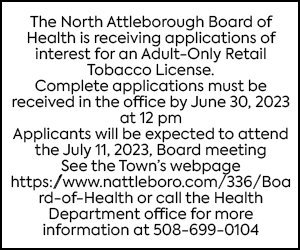 abass@northstarreporter.com
Located on the intersection of Route 1 and South Washington Street is an electronic sign that reads in bright orange lights: "PLOW DRIVERS WANTED. CALL DPW."
The sign was stationed since September and is part of the North Attleborough Department of Public Works (DPW) campaign to recruit snow plow drivers for the upcoming winter season. The department has taken such proactive steps to increase the number of contracts this year. This comes after last year's active snow season, which saw heavy precipitation and a blizzard in late January 2022.
This year, at the request of snowplow operators, hourly rates have increased and those who sign up early will receive an additional $5, DPW Director Mark Hollowell told the Reporter. He said the department also began advertising in September and is continuing to call potential plow operators.
"We heard back from those who had contracts last year and they said they wouldn't come back this year if rates didn't change," Hollowell said. "We changed our incentives this year to increase our contracts."
The decision to raise hourly rates parallels the Massachusetts Department of Transportation (MassDOT), which will increase its base hourly pay rate by 20% for vehicles and by 10% to 20% for accessories and cleaning attachments.
Hollowell, who has served as director for 16 years, described last year's season as particularly difficult. He said equipment broke down plowing heavy drifts while surrounding areas faced a driver shortage.
"I had to get out my snow plow and drive myself sometimes," he said. "Last year, we had only 12 contracts, which were pretty small."
As of October, the DPW has 17 contracts for the winter season—an increase from last year. Some truck operators who provided sand and gravel for de-icing renewed their contracts, while others are brand new. Other drivers declined to return due to rising insurance rates and high gas prices.
"There was one person who had three trucks last year, but he's not coming back," Hollowell said.  "We all know this isn't the easiest job to do, especially with inflation raising prices."
While Hollowell said the 17 contracts is a good minimum, his department is continuing to do outreach, specifically for truck drivers who operate 10-wheeled dump trucks.
The larger trucks are used for heavy, instantaneous snow falls—whereas the smaller trucks are for situations where precipitation falls throughout a period of time.
According to the DPW's rate chart for the 2022-2023 season, operators of 10 wheelers would receive an hourly rate of $145 and those operating a standard four-wheel pickup truck would receive $95. The rates for other vehicles can be found on the DPW's website under the snow and ice section.
North Attleborough Highway Superintendent Evan Tibbetts said he has been busy making calls to drivers, and wants to ensure there is not another shortage this year. He and Hollowell both said there will be at least one big storm this winter.
"Last year was not fun to say the least," Tibbetts said. "Just like Mark I had to go out and plow the snow myself and it was nightmarish."
Town Manager Mike Borg said he was encouraged by Tibbets and Hollowell's recruiting efforts. He said the Town Council and Town Hall would help through funding and working alongside the DPW in case of emergencies during potential storms.
"We're one team, one fight," said Borg. "Our support goes through funding, and we give him a snow budget every year. Snow starts off every year with $250,000 for it. An average year off the top of my head is $600,000 to $650,000 and that's accounting at least one big storm."