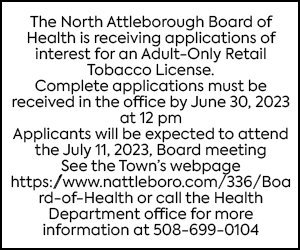 By Max Bowen-max.bowen@northstarreporter.com
Though a fundraiser to benefit former Town Councilor JoAnn Cathcart is many days away, residents of North Attleborough are already showing their generosity.
The fundraiser, called "Giving from the Heart," will be held on Saturday, Nov. 19, at the Bristol Lodge at 45 S. Washington St., and was organized by the Downtown Associates of North Attleborough (DANA). All proceeds will benefit Cathcart, who suffered a spinal cord injury in July after a fall, according to a letter sent by DANA. She currently does not have the full use of her arms and legs and needs intensive therapy, nursing care, and physical accommodations, the letter states.
"For over 35 years, JoAnn Cathcart has given her time, her knowledge, and her considerable effort to the Town of North Attleborough and its residents," the letter read. "It is time now for us to give back to her."
Cathcart resigned from the council in August, and Dan Donovan was appointed to her seat—a candidate who ran for council in 2021 but came in 10th in voting. Per the town's amended charter, when one of the nine council seats becomes vacant, the candidate with the next highest vote count will fill the vacancy and serve for the remainder of the unexpired term.
"While I know that change is difficult for many people, change gives us the opportunity to move forward together," she wrote in her letter of resignation. I am happy to have been part of some of these changes. When we work together, North Attleborough shines."
DANA President Maureen Merigold said that people have been making contributions since the fundraiser was announced. Cathcart is a member of DANA, and Merigold said it's one of many roles she has had over the years.
Cathcart, who grew up in North Attleborough, served as a member of the Representative Town Meeting as part of the Commission on Disabilities, acted as both assistant to the town administrator and as interim town administrator, and was the town's ADA Coordinator. She worked with the police department for years and has served on the board of directors for North TV along with the Finance Committee. In 2019, she, along with eight other individuals were elected as North Attleborough's first Town Council.
"She has spent the last 40 years serving North Attleborough in one capacity or another," said Merigold.
No matter the role, Merigold said, Cathcart's impact on North Attleborough has always been a positive one. She described Cathcart as someone who fights for the town.
"She really pushed to get a lot of things going," Merigold said. "We're just trying to help the family because you don't ever prepare for this. She's done a lot and it's time or us to give back, pay it forward."
The fundraiser will be held from 5-9 p.m. Tickets are $60 per person and may be purchased through the Caring Team listed below. Make all checks out to DANA with "Donation for JoAnn" on the memo line. If you are unable to attend, any donation is appreciated: Mail donations to P.O. Box 407, North Attleborough, MA 02761.
The JoAnn Cathcart Caring Team:
Betty Poirier: 508-982-5194
Steve Carvalho: 774-254-0857
Lyle Pirnie: 339-206-7093
Marie Clarner: 774-254-2787
Maureen Merigold: 508-369-2464