By Max Bowen-max.bowen@northstarreporter.com
Emma Sheldon's role as Anne Frank didn't just present a new milestone for the young actress—through the part, she's helping to keep history alive.
Sheldon, a sophomore at North Attleborough High School, is currently in a week-long production of "The Diary of Anne Frank" at the Granite Theater in Westerly, R.I. It's a 1959 film based on the Pulitzer Prize-winning 1955 play of the same name, which is in turn based on the posthumously published diary of Anne Frank, a Jewish girl who lived in hiding with her family during World War II. It was published after the end of the war by her father, Otto Frank, who lost his family to the Nazis.
Sheldon said she knew very little about the Holocaust, as it wasn't taught much in school. After being cast in the main role, she went to work, educating herself on the time period and everything that happened. She also spoke with second-generation Holocaust survivors, and the theater worked with local synagogues to arrange performances for 250 students.
"Especially for this, I thought it was so important to know," said Sheldon. "I truly went in-depth, read the diary and watched a few documentaries."
Rhode Island has a law that requires the Holocaust be taught. Signed by Gov. Gina Raimondo in 2016, school districts have to educate middle or high school students about it before graduation.
Erin Sousa-Stanley, Artistic Director at Granite Theatre and the play's director, said many people auditioned for the role of Anne. What impressed her about Sheldon was how she immersed herself in the subject, even working with a dialect coach.
"She did not have as much background with what happened historically, but she shared that with us," said Sousa-Stanley. "She dug deep and did research and we (the cast and crew) did a lot of that as well. She became passionate about Anne Frank."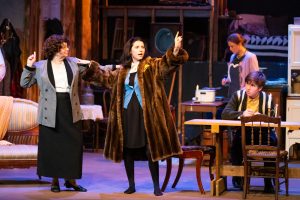 Sheldon's past performances include "A Midsummer Night's Dream" with the Boston Shakespeare Conservatory Working Actors Group and working with the Boston Theater Marathon. She was part of the NAHS performance of "Clue," and said being in the role of Anne Frank, she had to portray her as lively and hopeful.
"I think hope is what drives this….her hope is what helps her survive for as long as they did and not lose hope," said Sheldon. "I learned how strong a girl she was."
Sheldon said that certain scenes were hard to get through, but it was important to see, adding that sounds of the Gestapo running around and searching for the family were included. At one point Anne is talking about her future and wanting to visit Paris, which Sheldon described as particularly difficult. Sousa-Stanley said it's important for this story to be told, especially given what is going on today.
"If we stop telling these stories and sharing these stories, we can't make a difference in the world," Sousa-Stanley said.
Sheldon credited the cast and crew for the production, especially William Corriveau, who plays Otto Frank. Corriveau is also a director and as an actor, Sheldon said he is very talented.
"He truly brings Anna's father to life," Sheldon said. "He (Otto) survives and to be able to show that grief and loss—he truly is a powerful actor and I still cry when I see him acting sometimes."
The Granite Theatre will have performances of "The Diary of Anne Frank" on Friday and Saturday at 7:30 p.m. For tickets, visit https://granitetheatre.org/the-diary-of-anne-frank.