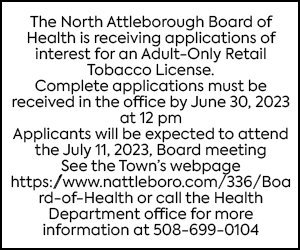 North Attleborough Chief Christopher Coleman announced that the fire department held a successful pinning ceremony on Oct. 25 to honor numerous members of the department.
During the ceremony—held at the middle school—four members of the department were sworn in as firefighters, two were promoted, and several received service awards. Additionally, one member of the department was recognized for his retirement.
At the ceremony, Chief Coleman, Deputy Chief Michael Chabot, Town Manager Michael Borg, Town Council Vice President John Simmons, and Legislative Aide Mason Lord from State Representative Adam Scanlon's Office shared remarks. Lord also presented those sworn into their new positions with letters of recognition on State Rep. Scanlon's behalf.
Town Clerk Patricia McNielly swore several members of the department into their new positions.
At the ceremony, Brian Kelley was promoted to the rank of captain. Kelley is a 17-year veteran of the North Attleboro Fire Department. He also is a certified paramedic and is in charge of the department's Public Education program. In his new role, he will act as the EMS captain and will be in charge of all EMS-related functions. Capt. Kelley will be the first member of the department to serve in this position. He was pinned by his twin sons, Colin and Seamus Kelley.
Shawn Brillon was promoted to the rank of Lieutenant. Brillon is a 29-year veteran of the department serving also as a paramedic and as the union president. Lt. Brillon was pinned by his father, George Brillion who is a retired North Attleborough firefighter.
Four members were sworn in as firefighters and pinned at the ceremony. Those sworn in as firefighters include Robert Breese, Kyle Goulet, Aaron Braga and Cameren Cornetta.
Robert Breese and Kyle Goulet were hired by the department in January 2022. Breese is a Massachusetts Army National Guard veteran and is EMT certified. He graduated from the Massachusetts Fire Academy and is currently enrolled in paramedic school.  Firefighter Breese was pinned by his wife Angela Breese.
Goulet began the fire academy on Monday, Oct. 24. He has a bachelor's degree in kinesiology from the University of Massachusetts-Amherst and is currently a certified EMT. He recently finished paramedic school and is awaiting the test to become a certified paramedic. Firefighter Goulet was pinned by his mother Judy Adams.
Aaron Braga is a Firefighter/Paramedic who has spent the past six years serving the Seekonk Fire Department. Firefighter Braga was pinned by his wife, Tiffany Braga, and his sons, Elijah and Jacob Braga.
Cameren Cornetta joined the department in August 2022 following in the footsteps of his father, the late firefighter Chris Cornetta who passed away in March 2019. He is a certified EMT and will be attending the Brockton Fire Academy in November. Cornetta was pinned by his mother, Melissa Cornetta.
In addition to those sworn into their new roles, the department also recognized those who reached their 20, 25 and 35-year milestones with the department.
35-Year Service Awards
Lt. Curt Chretien and Firefighter Larry Silvestri were awarded for their 35 years of dedicated service to the department.
25-Year Service Awards 
Fire Chief Christopher Coleman, Deputy Chief Michael Chabot, Capt. Ronald Burns, Lt. Scott Langille, Firefighter Shad Blake, Firefighter Eric Meyer, Firefighter Richard Burns, and Firefighter Michael Haueisen were recognized for their 25 years of service.
20-Year Service Awards
Capt. George McKinnon and Firefighter Scott McAuliffe were awarded for their 20 years of service.
The North Attleboro Fire Department also recognized Firefighter Michael Levasseur who recently retired from the department. Levasseur served the department for twenty years having joined its ranks on  Aug. 11, 2002. He retired on Aug. 11, 2022.
"I would like to recognize and commend all of the men and women of the North Attleboro Fire Department who were recognized at our ceremony last night," Chief Coleman said. "All these men and women contribute to ensuring that our department operates at the highest standard possible so, in turn, we can give the best service and care to our community members that they are deserving of. I ask that our community members join me in congratulating each and every one on their accomplishments."