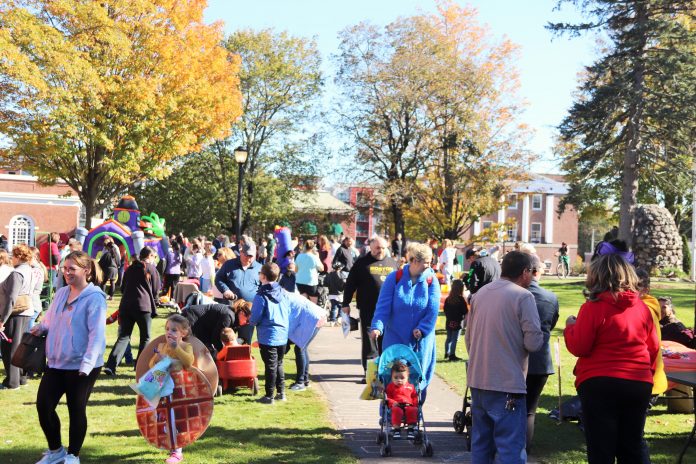 By Max Bowen-max.bowen@northstarreporter.com
Every Halloween, children walk the streets of their neighborhood, gathering all sorts of candy treats.
But for kids with allergies, it's an experience that may not have the same feeling. To help give these children a more enjoyable All Hallows Eve, there's the Teal Pumpkin project.
FARE's Teal Pumpkin Project was inspired by a local awareness activity run by the Food Allergy Community of East Tennessee (FACET), according to Senior Director of Communications MP Krouse. It's a movement to raise awareness of food allergies and create a safer, more inclusive Halloween by making non-food treats available, such as glow sticks or small toys, in addition to candy.
The act of placing a teal pumpkin on the doorstep raises awareness of food allergies and let's trick or treaters know the homeowners participate in the project by offering non-food treats such as stickers, pencils, glow sticks, crayons, cars, and other novelty items.
North Attleborough resident Susan Taylor is the founder of the Southeastern Chapter of the No Nuts Mom Group (NNMG). The group has partnered with FARE and is promoting the Teal Pumpkin Project. Her son Caleb is allergic to over a dozen foods, and cannot eat any packaged foods. Instead of going trick or treating, they do a scavenger hunt for toys and laving bags of treats out for friends. Taylor said her son's allergies are so strong, even touching a packaged candy can trigger a reaction. NNMG organizes candy-less Trunk or Treats, Easter egg hunts that don't include food, and organizes support groups.
"We tried trick or treating when he was younger, but it was too dangerous," she said. "He has contact allergy and cannot touch the wrappers."
Taylor recalled a Halloween when they passed a home with a teal pumpkin outside the door and Caleb was able to get a stuffed animal and glow stick.
"Typically, our family skips trick-or-treating and creates our own safe costumed scavenger hunt around the neighborhood equipped with toys, music, and games as we are one of the families unable to eat the majority of packaged candy traditionally handed out," she said.
Since 2013, the Teal Pumpkin Project has grown to a nationwide initiative, due to the rise in the numbers who suffer from food allergies, which is 32 million Americans, according to Krouse.
"The Teal Pumpkin Project has allowed for an increase in awareness of food allergies and is an inclusive movement that we can all get behind so that all kids can be safe on Halloween," she said.
For more information, visit www.foodallergy.org/our-initiatives/awareness-campaigns/living-teal/teal-pumpkin-project.