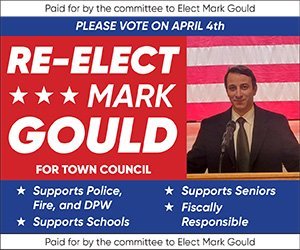 Attleboro resident and internationally recognized attorney Donna Lamontagne received Bishop Feehan High School's Distinguished Service Award at the school's annual President's Leadership Society reception on September 22.
The award honors a supporter of the school who has demonstrated outstanding dedication, generosity, and leadership in the Feehan community.
"Donna has set a new standard for volunteer leadership at Bishop Feehan," school president Tim Sullivan '87 said. "She is a tireless advocate for our school and a wonderful friend and trusted presence for me and our leadership team."
Lamontagne's service to Feehan is highlighted by her steady leadership as the school transitioned its governance model over the last two years. In July, 2021, Feehan shifted to a locally-managed, financially independent Catholic high school managed by a local Board of Trustees.
Joe Kurtzer, chair of Feehan's Board of Trustees, said Lamontagne's strong working relationships with leadership in the Roman Catholic Diocese of Fall River were essential to the creation of the new Feehan corporation.
"I'm delighted to honor Donna's deep commitment to and powerful impact on Feehan over the last several years," Kurtzer said. "Not only has she been a leader for our school, she has been a friend and mentor to me personally, too."
Lamontagne's service to Feehan began in 2016 when she joined the President's Advisory Council (which later became the President's Advisory Board). She was appointed chair of that group in 2019 and held the position for two years before becoming the first chair of the Board of Trustees when it was established in 2021.
Lamontagne also served as a co-chair for Bishop Feehan's ambitious Daring to Believe strategic plan. The plan served as an important step toward the school's ongoing $13 million Daring to Believe capital campaign, which includes the now-under-construction Innovation and Performing Arts Center on the south side of campus.
Although Lamontagne stepped down from her chair role in June, 2022, she continues to serve the Feehan trustees in an emeritus role. She also remains a member of the Central Catholic School Board for the Diocese of Fall River.
Outside of her service to Catholic schools, Lamontagne is a founding partner of Lamontange, Spaulding & Hayes, LLP, a firm with offices in Wellesley, MA and Cranston, RI, that specializes in civil litigation and insurance defense. She has held several leadership roles within the International Association of Defense Counsel.
Lamontagne and her husband Tom Patriarca are the parents of three Feehan graduates: twins Annie and Cayce from the Class of 2019, and Mary from the Class of 2020.