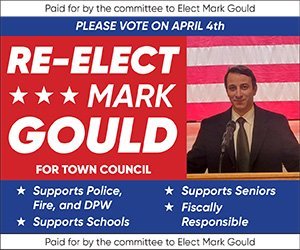 On Sunday, Oct. 16, the Hockomock Area YMCA will hold the Spier Family Kindness for Kids 5K and Family Fun Day at the Nature Trail and Cranberry Bog at Patriot Place. Located at 1 Bass Pro Drive behind Bass Pro Shops in Foxborough, this event includes a 5K, a free Kids Fun Run, a two-mile race for kids ages 12 and under, and free, family-friendly activities provided by dozens of YMCA community partners. All proceeds from the day's event will benefit the Hockomock Y's Food Access Programs.
Greg Spier, longtime YMCA board member, community leader and Foxborough resident, expressed, "My wife Kathy and I are so excited to sponsor this great event again this year, bringing families together for healthy activities while raising awareness of our Y's ongoing food security programs."
Since March 2020, the Hockomock Area YMCA has provided more than 440,000 meals and more than 64,000 bags of groceries, valued at $50 each, to those in need in local communities.
"The Spier Family Kindness for Kids 5K & Family Day is an important event on our YMCA calendar.  The day celebrates and reinforces our focus on healthy living and our commitment to raise funds for our Food Access initiative so that no one goes to bed hungry," said Jim Downs, CEO of the Hockomock Area YMCA. "Once again we are so grateful for the tremendous support of Greg and Kathy Spier as our presenting sponsors and the collaboration with our friends and our hosts at Patriot Place."
The 5K will begin at 8 a.m., and individuals, families and teams are welcome to run or walk. Both the 2-mile Youth Run and 0.7-mile Fun Run will begin at 9 a.m. From 8 a.m. to 11 a.m., all are welcome to participate in the Spier Family Fun Day – a free family event where children can take part in activities, crafts, and more.
Online registration for the Spier Family Kindness for Kids 5K and youth races is open now. Interested participants can register for the 5K for $25 and for the two-mile race for $15. There is no charge for the Fun Run, but advance registration is required. Further details and registration information is available at www.hockymca.org/5k-family-day. Attendees are also encouraged to bring non-perishable food items to "Stuff the Truck" to assist those in need.
The first 200 registrants for the 5K and two- mile race will receive a commemorative Kindness for Kids 5K shirt.
October 16 activities timeline
7 a.m.—Race registration opens at the Nature Trail and Cranberry Bog at Patriot Place (available now at www.hockymca.org/5k-family-day)
8 a.m.—Family Day begins, runs until 11:00 a.m.
8 a.m.—5K race begins
9 a.m.—Two-mile Youth Run and Fun Run begin