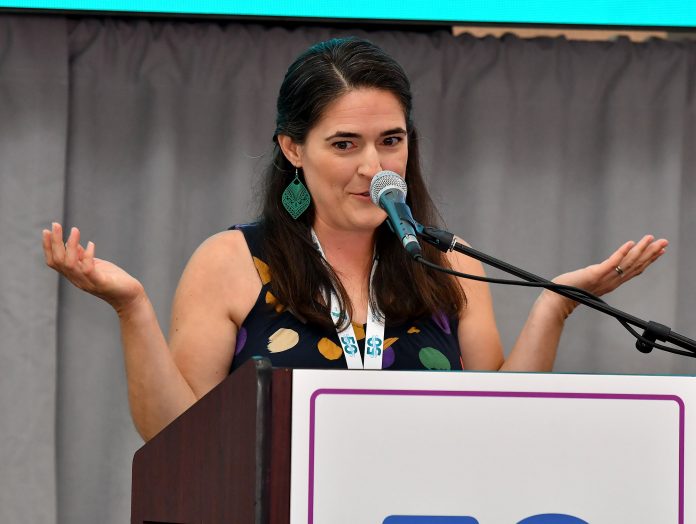 The Hockomock Area YMCA held its annual Campaign Breakfast on Sept. 15 at the Gillette Stadium's Putnam Club in Foxborough.
Eric Kevorkian, chair of the Board of Directors at the Hockomock Area YMCA provided welcoming remarks and noted, "This annual gathering of caring, compassionate members of our community never fails to inspire me, and never fails to remind me of why I'm involved and why what the Y does is so important."
The Y's annual fundraising campaign, known as Reach Out, ensures this non-profit organization continues to address diverse, emerging, and critical human needs across the 15 communities they serve.
Special guest speakers included friend of the YMCA Norm Bossio and YMCA member Nadine Bullock.  Bossio shared, "For over 50 years, the Hockomock Area YMCA has had a vision. You're here today to help with that vision."  During his remarks, Bossio credits his YMCA experiences in his youth for making a difference in his life and making it his mission to continue to help and inspire others.
YMCA Board of Director Mary Clermont, the Y's immediate past chair, commented, "The Hockomock Y is our home and it's our community. Charity starts here today. People need help and together, we can impact the lives of so many in our community."
The Hockomock Y's Board of Directors issued a $50,000 challenge to event attendees, matching all leadership gifts of $500 or more. Vice Chair of the Y's Board of Directors Farzin Karim shared her own personal story, "I benefited because someone just like one of you in this room, made a donation to the Y and allowed me to experience camp for a couple of weeks at a local YMCA.  And in that experience at the Y, it changed my life.  You have an opportunity to change someone's life this morning and make a difference."
The Hockomock Y's goal is to raise $1.4 million for this year's campaign. The Breakfast event raised $203,000, bringing the total raised to-date to $1.2 million for this year's campaign. To make a gift or learn how you can volunteer, visit www.hockymca.org/give
Jim Downs, Hockomock Area YMCA CEO thanked attendees for being at this event, believing in and supporting the Y's mission saying, "Thank you for your trust in our Hockomock Area YMCA. For the last 5 decades, you've trusted us to be here when kids and families needed us most and be that critical community safety net. Our Hockomock Area YMCA is something you can always count on."