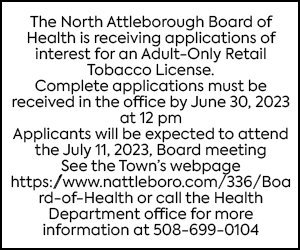 abass@northstarreporter.com
As the legislative session drew to a close, politicians on Beacon Hill returned to their districts to prepare for the upcoming primary and general election seasons.
Rep Adam Scanlon however, is thinking further ahead.
A Democrat elected in 2020, Scanlon faces no challengers from his party or the Republican Party this year—meaning he is set to serve another term in office. Scanlon said he is thinking about how he wants to continue serving his constituents in North Attleborough during his next term.
"I'm thrilled to continue fighting for key areas," Scanlon said. "The way that I look at it is that the longer I have an opportunity to help people, the happier I am."
One piece of legislation Scanlon wants to pass is an economic development bill containing tax relief for senior citizens.
During the end of the legislative session, the House and Senate were unable to pass a bill that would provide economic assistance for municipalities due to a 1986 law. This law states that if revenue growth exceeded wage and salary growth over a budget year, the excess money would be returned to the taxpayers.
As such, Scanlon said the legislature thought it would not be fiscally responsible to do such relief, which ultimately left the bill in limbo. Despite this setback, Scanlon wants the legislature to be back in session as soon as possible to try and pass it.
"I'm hoping we can address those tax related issues in this session and in an informal session if we come back, which I hope we do," Scanlon said. "The governor even acknowledged us by name to thank us for our efforts."
Scanlon also acknowledged that the legislature did take a long time to pass important legislation, such as a bill to improve offshore wind energy and a sports betting bill. The two chambers took up the bills at noon on July 31 and finished their sessions at 10 a.m. on Aug. 1. He described the House and Senate as being reactionary to several different needs and acting upon them all at once, causing a logjam of legislation.
"The thing about the legislature is that it's fluid," he explained. "It reacts to the needs of its constituents and there are a lot of needs right now. We need to do our best to respond to all of them."
Another desire Scanlon has is to conduct a study on housing and Chapter 40B. Also known as the Massachusetts Comprehensive Permit Act, is a state law which enables municipal Zoning Boards of Appeals to approve affordable housing developments under flexible rules if at least 20-25 percent of the housing units have long-term affordability restrictions.
Scanlon said he has an interest in learning about housing and to find out if Chapter 40B is up to date with what the state needs in affordable housing and if it needs to be changed.
"I want to learn more about housing," he said. "I want to study Chapter 40B, learn what worked and what things may need to be changed."
Aside from the desire to pass an economic bill and to learn more about housing, Scanlon touted some other legislative achievements during the past session.
This includes a bill that would expand mental healthcare coverage in Massachusetts and a transportation bond bill that provides $5 million for safety improvements for Kelley Boulevard.
"We have to protect the systems in place," he said of the mental health bill. "We need to ensure that people have the access to the treatment they need and deserve."
Another goal for Scanlon next year? Building a caucus for young lawmakers. At the age of 24, Scanlon was the youngest lawmaker in the legislature during his first year. In 2023, it is expected that there will be even younger legislators joining the ranks of Beacon Hill, and Scanlon wants to welcome them with open arms.
"You know I think it's wonderful that more young people are interested in public service," Scanlon said. "I think having a caucus of these young legislators would be a good idea in the future."