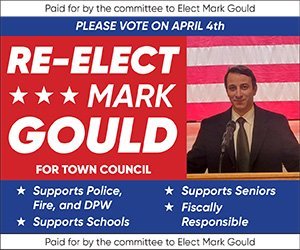 By Max Bowen-max.bowen@northstarreporter.com
For the Gaudettes, being part of the North Attleborough Schools is something of a family tradition.
Gideon Gaudette worked in the district for 16 years, most recently as director of technology. His father was a part-time electrician for the schools for 35 years. Gaudette met his wife while working in North Attleborough, and their children are students at North Attleborough High School.
So, it's understandable when Gaudette said it was a very hard choice to resign his position to take a similar one at the Whitman-Hanson Regional School, effective Aug. 1. In a letter to faculty and parents, Gaudette said that as he entered his 25th year in education, he thought North Attleborough would be the final stop in his career.
"I am a product of the North Attleborough Schools, I live in town, my two boys went through the system and currently attend North Attleborough High School, my wife is the nurse at the ELC and my sister is a teacher at Martin School. I even got to work alongside my dad before he retired as a school electrician just a couple years ago," wrote Gaudette in his letter. "Even with all those factors and due to multiple reasons, it was time to pursue other opportunities."
North Attleborough is only the second town Gaudette has worked in. Prior to this, he was a teacher in Newton for eight years. When his time in Newton came to an end, Gaudette received his certification for administration and went on to work as the Martin School Assistant Principal, Allen Avenue School Principal, Community School Principal, and director of transportation before becoming director of technology in 2017. In his last role, Gaudette got the chance to work closely with his father.
"(When I was younger) I would see him at the high school working on something," he said. "It was neat for father and son to work together."
During Gaudette's time at the technology department, more than 3,000 devices were handed out in the last year alone. In addition, the department also helped update the security systems for the schools and installed a visitor management system.
Working as director of technology during the pandemic was a challenging time. Gaudette said the department had to pivot overnight to adapt to remote learning and credited his staff for all their hard work over the years. Gaudette recalled being up until 11 p.m. to check his email to see if parents had issues with connecting their children's devices to the remote lessons.
"If we had a parent contact us saying they couldn't log on, we'd need to meet them at 7 a.m. the next day," he said.
Gaudette described Whitman-Hanson as similar to NAHS, with only 500 fewer students. One big difference is that while North Attleborough has become used to using Google as opposed to Microsoft Office 365, Whitman-Hanson only recently made the change. He added that Whitman-Hanson hasn't had a director of technology for a few years.
"I think I'll be able to shape it," he said of the position. "They have systems in place that worked for them."
Since making the announcement on social media of his resignation, Gaudette has received a number of positive comments and well wishes from the community. He said after his years with the technology department, it was a good time to hand it over to someone else.
"That's hard to leave behind—that weighed on my decision," he said. "I certainly plan to be actively involved in the community."