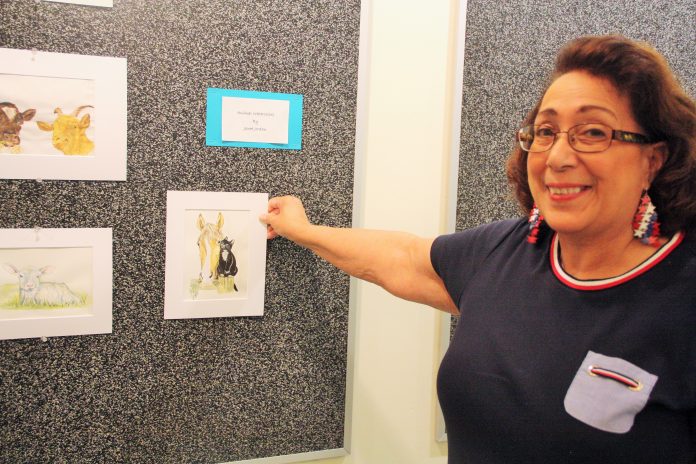 abass@northstarreporter.com

On the bottom floor of Richards Memorial Library, one might be surprised to find different types of wildlife surrounding the hallway—all part of a summertime art display.
Library staff members Cathy Firicano and Janet Jordan created a small gallery this month to display their watercolor paintings for the public to see. Firicano's art is centered around natural settings, such as the beach, the grape vineyards of California, and open fields. A majority of her works are done in an abstract format using shapes to represent different places she enjoys visiting.
"They are all based on landscapes inspired by the ocean, beach, shore, and they are places that make me happy," said Firicano. "I love landscapes. I love the ocean, I just need to be near water."
Jordan's art is focused on animals. Her works include paintings of squirrels, cows, goats, butterflies, dogs, and cats. Jordan's inspiration for painting animals is that they bring her happiness and joy. As such, her works can be seen smiling at visitors to project these positive feelings.
"I call them my crazy critters," Jordan said. "It kind of reminds me of the book Charlotte's Web."
The library held an event on June 16 where children could see real live animals and compare them to Jordan's paintings. The event was so popular that Firicano recalled the library turning people away, as there was little room to hold everyone.
"That was so much fun," Jordan said. "We had so many people. They pass these boards every day."
While both of them are proud of their paintings, Jordan and Firicano believe they should not be the only artists to show their work. Adjacent to both their pieces are two blank boards. These are for people who have a desire to show their passions in painting, drawing, craftwork, and even photography.
Jordan said this could provide an opportunity for students K-12 to present their artwork from school, as many take their pieces home rather than donate them to a gallery.
"A lot of their teachers don't get in touch with us until the end," she said. "So, during the year, if they have some art presentation, they could put it on here as well."
Firicano added that there's no skill level needed for those to share their passion, and that any type of art—visual or non-visual—-should be celebrated and honored.
"You don't have to be from North Attleborough or a professional," Firicano said.