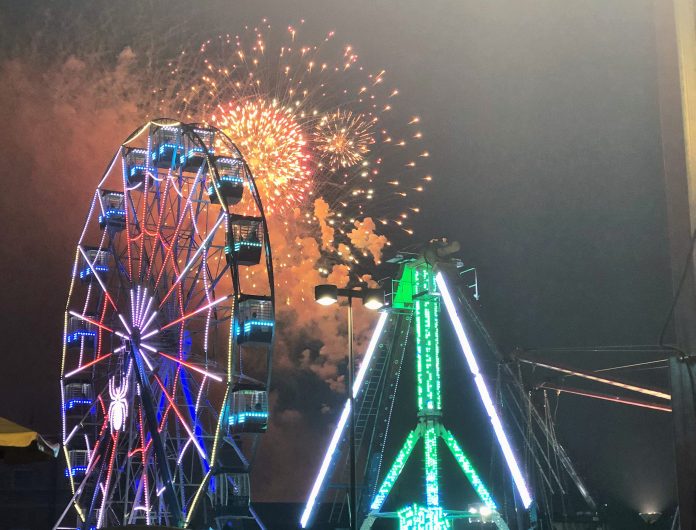 North Attleborough Firefighter's Kids Day returns for its 41st annual fundraising carnival at the North Attleborough Middle School, 520 Landry Ave., from July 21-24.
The North Attleborough Firefighters Kids Association is a non-profit organization that started in 1980. The organization's mission is to raise funds to donate to the community for those who need it the most. The main source of income is the association's four-day event which is held in July each year. Last year the event returned following a year off due to the pandemic and had its best year since it started.
The four-day event consists of food, music, carnival rides, a fire truck parade, fireworks, and many other activities for the entire family to enjoy. All our entertainment on the stage is paid for through our corporate sponsor program. A business that makes a donation will have a sign on our main stage during our event.
This year will feature most of the same activities as previous years with a few changes due to last-minute planning. The association regrets that for the second year in a row The popular 5K Road Race will not be held. However, organizers are confident that it will return for future events.
The four-day event is free of charge to get in. It is a family-friendly event and no alcohol is allowed or sold for consumption. Also as per town by-law dogs and other animals are not permitted to be on the field or in the carnival at any time.
The Spring Street and Stoddard Drive walking paths to the high school and middle school property are closed from Friday morning until Saturday night after fireworks. Organizers apologize for any inconvenience this may cause. However, this has been done in the interest of safety.
The event schedule is as follows:
Thursday, July 21
Rides and games, noon-10 p.m.

Cruise Night,

6-9 p.m.

Counterfeit Cash on stage, 5-7

p.m.

The Rob Davis Band on stage, 7-9

p.m.
Friday, July 22
Rides and games, noon-10 p.m.

Field events, noon-8 p.m.

Chris Cornetta Wiffle Ball Home Run Derby, 5 p.m.

Toby Road on stage, 6-7 p.m.

Dr. Slick on stage, 7:15-10

:15 p.m.

Fireworks b

y

Atlas

Pyrotechnics,

approximately 9:15 p.m.
Saturday July 23
Fire Truck Parade starts at 11 a.m. and arrives a

t the middle school at noon

Rides and games, noon-10 p.m.

Free kids bike giveaway—one boys and one girls bike. Tickets will be given out, one per child during the afternoon, f

rom noon-3

p.m.

NCW Wrestling on field, 5-8 p.m.

Morrissey Blvd on stage, 7-8

p.m.

Scott Brown & The Diplomats on stage,

8-

10

p.m.

Fireworks by Atlas Pyrotechnics, approximately 9:15 p.m.
Sunday, July 24
Rides and games, noon-6 p.m.

Kid's Day Touch-a-Truck, 12-3 p.m.

Free kids bike giveaway—one boys and one girls bike
Please note—all above times are subject to change without notice. All events are subject to weather permitting. No refunds will be given due to inclement weather
The Kids Day Firetruck parade will kick off at 11 a.m. from Mason Field and end at the middle school. The route of the parade is as follows: Start at Mason Field at 11 a.m. Straight on Elm Street toward center of town. Right onto North Washington Street. Right turn across Route 1 at Coffee Connection to Elmwood Street. Proceed up Elmwood to Mt. Hope Sreet. Right onto Mt Hope Street to Landry Avenue. Left onto Landry and proceed to middle school.
Credit and debit cards are accepted at the food tent. All events are subject to change and are weather permitting.
The Kids Day web site is www.nakidsday.com. The Facebook page is: @nakidsday
Donations can be mailed to:
North Attleboro Firefighters Kids Day Association
P.O. Box 3215
Attn: Fireworks
North Attleboro, MA 02761
Donations can also be made via credit or debit card through the web site.