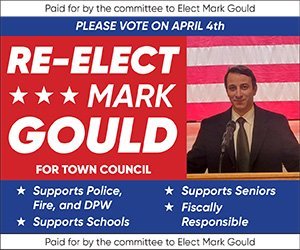 Appearing before the Town Council, School Superintendent Dr. John Antonucci wants to ensure the goal to build new athletic facilities for North Attleborough High School is done correctly.
Antonucci, along with directors and architects from Nesra Engineering, gave a presentation to the council at its June 22 meeting about the status of the plans to rebuild the bleachers and track at the Ray Beaupre Field and construction of new bathrooms and concession stands.
These projects have been a priority for town residents since 2019—a priority that faced roadblocks and setbacks, according to Antonucci.
"I started this job on Aug. 1 and I spent the better part of my first day in North Attleborough working on this project," he said. "This is something that is a high priority for the town, but it's been stuck in limbo for lack of a better term."
The superintendent said the original plan was to only replace the track and bleachers, which would have cost $800,000 and $1 million respectively.
When reviewing the original plan, however. Antonucci found that there was no consideration about plumbing codes, the concession stands at the site, storage concerns, and ADA compliance for the overall project.
In April 2021, a master plan was constructed by Nersa Engineering, which placed cost estimates for the complex project at $5 million. This takes into account the costs of hiring CHA consulting for Operational performance management, the track replacement, bleacher replacement, a press box and lift addition, toilets, lavatories, and fencing.
According to Antonucci, there were three bids from developers for the bleacher replacement project and two for the track replacement project.
"We really want to make sure we have something our community can be proud of," Antonucci said. "I wish we had this two-three years ago and be realistic about what the scope of this project really is."
Antonucci told the council additional funding was needed for the continuation of the master project. The council voted that night to send the request to the Finance Subcommittee for further evaluation and possible approval.
Councilor Patrick Reynolds, who serves on the subcommittee, said he was looking forward to going over Antonucci's request and thanked him for his presentation. He said during his tenure as a councilor, these proposals have been held up due to change in costs and plans. At the same time, Reynolds said he hopes the council is close to finishing approving this proposal.
"We're gonna delve into the numbers," said Reynolds. "It's always important to make sure we are spending money responsibly."
JoAnn Cathcart also gave praise to Antonucci that night, that even though this was his first year as superintendent, he took a direct approach to the project and said his leadership was impressive.
"Look at what you accomplished," Cathcart said. "Look at what you accomplished in your first year. You're not even a year old."
The Finance Subcommittee is scheduled to meet the evening of June 29.