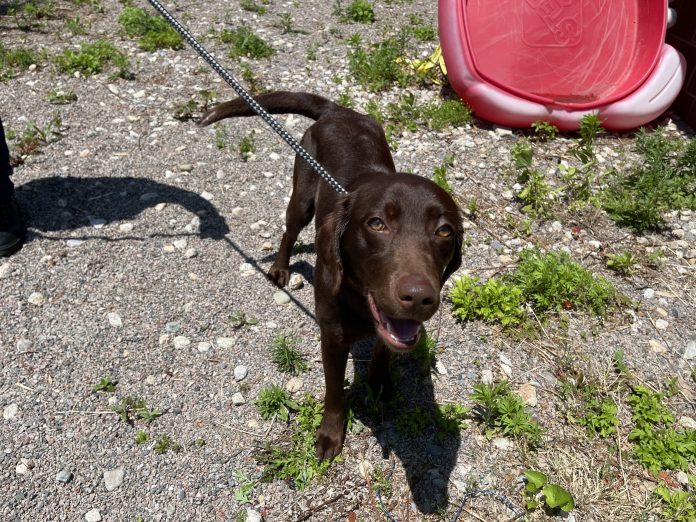 By Max Bowen-max.bowen@northstarreporter.com
Police have shared photos of a dog found wandering near the Chemawa Golf Course suffering from malnourishment and Lyme Disease in the hopes that the owner can be located.
According to North Attleborough Police Officer Julie Lowe, the dog—a 3-year-old female Chocolate Labrador—was found by a resident in the area of Huntsbridge Road on Friday, June 10. They shared images of the dog on social media in an attempt to find the owner, and were advised to bring the dog to the North Attleborough Animal Shelter.
Lowe said the dog was badly malnourished and suffering from Lyme Disease, mange, and had ear infections. The dog was named Brownie by the shelter staff, said Lowe, and that any animals brought to NAAS this month are given names of desserts.
"We believe she was abandoned because of her medical issues and no one has come forward for her," said Lowe.
Brownie wasn't found with a collar or tags, but she does have an unregistered microchip. The dog is spayed, very social, and good with other animals, but will not be available for adoption for some time as she undergoes medical care. Lowe said that if the owner can be located, an investigation will be done into how this happened.
"Somebody has to know," said Lowe. "Maybe the dog did get lost. We're looking to see if somebody will come forward."
Earlier this year, an Applehead Chihuaha was found abandoned by the side of Draper Avenue during a snowstorm. The dog's owner, 24-year-old Dominique Scott of Pawtucket, R.I., was eventually located and arrested on one charge of animal cruelty. Named Axel, the puppy was eventually adopted by Lowe and has become a town mascot of sorts, appearing at all sorts of events.
Any information on Brownie can be sent to NAPD Officer Julie Lowe at jlowe@nattleboro.com.