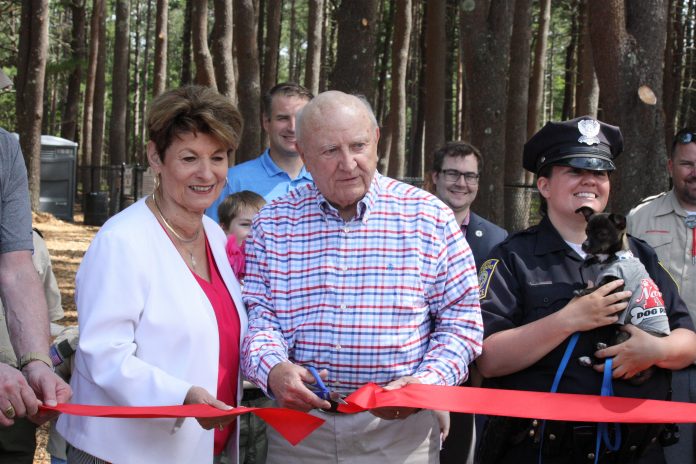 abass@northstarreporter.com
When Kevin and Elizabeth Poirier cut the ribbon to open the Town Forest and Dog Park, they received a round of applause and others wagging tails.
The ribbon-cutting marked the end of the town's year-long project to clean the underbrush of the forest trails and create a dog park by Plain Street. A grand opening ceremony was held on June 11, where the Poiriers officially declared the park open to the public.
"I was met here with dogs salivating all over me," Kevin Poirier said to laughter. "That's how you know I made it big."
Those attending the ceremony were Parks and Recreation Director Steven Carvalho, Town Manager Michael Borg, State Rep. Adam Scanlon, members of Boy Scout Troops 23 and 33, members of Cub Scout pack 12, and several town residents, along with their canine companions.
North Attleborough dog owner Kevin McCarthy—who launched the fundraising effort for the dog park—was also present at the event.
Borg announced that five of the forest trails would be named in honor of North Attleborough citizens who had an impact on the town's history. One of the trails was named after the Poiriers, who both served as the town's state representative for a combined 40 years.
"They are tremendous in what they do," Borg said. "I think they live, eat, and breathe North Attleborough."
Other trails were dedicated to the late Kyle VanDeGiesen for his service in Afghanistan, and former Allen Avenue School teacher Laurie Gelati-Armell, who died of cancer in 2011.
Following the ceremony, a guided tour of the walking trails was offered, with veteran hikers walking on paths with a green marker and novice hikers walking on paths with a red marker.
Members of Troop 23 and Pack 12 said they will be using the forest for future events to earn badges.
The most excited members of the crowd, however, were the dogs— who barked and howled at the chance to run around and play in the brand new dog park. The police department's mascot dog, Axel, was the first dog to enter the park—wearing a North Attleborough Dog Park shirt to mark the occasion.
Town Council President Justin Pare said the opening of the dog park was a personal event for him, as he could share this occasion with not just his immediate family, but with his dog, Lucky.
"That's a personal thing that will last," Pare said.