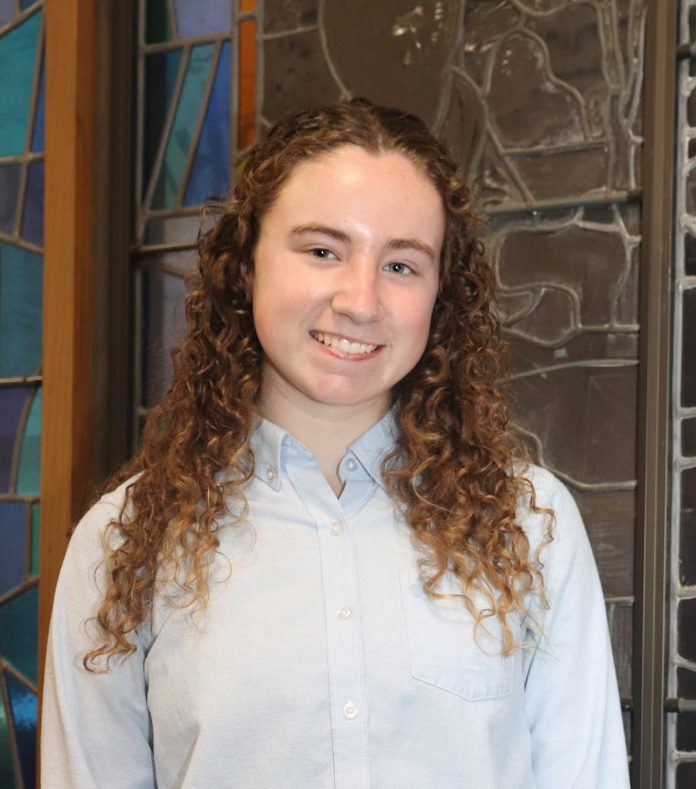 By Max Bowen-max.bowen@northstarreporter.com
When asked about her favorite times over the last four years at Bishop Feehan High School, Amy Parkinson didn't hesitate to say the Santa Shop, which provides gifts to those less fortunate.
It's one of many ways Parkinson—a North Attleborough resident—has given back during her time at the Catholic high school in Attleboro. Though her time at Bishop Feehan will soon come to a close, the Class of 2022 Valedictorian hopes to continue this service in the future.
"It's really helped to develop my character and make me a more forgiving and compassionate person," said Parkinson.
The valedictorian's introduction to Bishop Feehan came while she was a student at Saint Mary Sacred Heart School in North Attleborough. She participated in several activities at the high school, and shadowed other students when she was in the eighth grade.
"I think it's something nice to have in the back of my mind that God is always there and the gifts and talents that He has given me," she said.
The Class of 2022 will be the 58th to graduate from Feehan, with 100 percent of graduates accepted into one or more four-year colleges or universities. The top three students are Parkinson, Salutatorian Patrick Healey, and Tree Dedicator (third in class) Grace Burke.
"Our Class of 2022 at Feehan is a phenomenal group of leaders, scholars, athletes and citizens," said Bishop Feehan President, Tim Sullivan. "And our three top academic students this year represent their class perfectly. This whole class, and Amy, Patrick and Grace specifically, have persisted through very challenging years, remained connected to their classmates in very unique ways, and make their soon-to-be alma mater very proud. We can't wait to see what the future holds for this class."
Parkinson's time at the school has been filled with extracurriculars and sports, including the track and cross country teams. She is a member of the Science (Executive Board Member), French, History, Math, English, and National Honor Societies and has been recognized for her academic excellence through various awards.
In 2021 Parkinson received the Pope St. Pius X Youth Award through the Diocese for her service to the parish community. Parkinson helped teach an affirmation class for children, explaining Gospel readings and their messages. She also works at the YMCA and said both experiences inspired a desire to work with children. She'll be attending Boston College in the fall as a biology major on a pre-med track and hopes to work in pediatrics.
"It helped me to develop my faith, seeing them (the children) at work," said Parkinson.
When asked how she balanced such a busy schedule, Parkinson said it's a matter of focusing on one thing at a time and finding what she's passionate about.
"When it starts to feel like a chore and I'm not looking forward to it (I don't do it)," she said. "And I can focus on things that I actually enjoy."