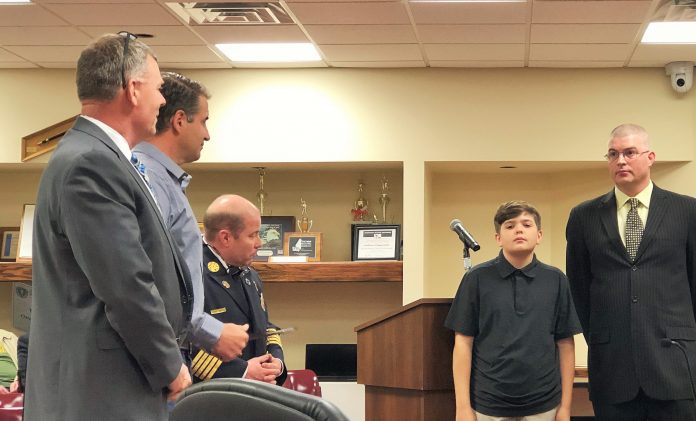 By Max Bowen-max.bowen@northstarreporter.com
Charlie Tgibedes said he wasn't scared as he pulled a driver from their burning vehicle—only that he had to help.
Tgibedes and his son Austin both received a commendation from the Town Council for their brave actions following a vehicle accident on Route 1 near Plainville on May 3. According to Fire Chief Christopher Coleman, the driver had lost control, striking several objects before coming to a rest after colliding with a fence. The vehicle caught fire upon impact, leaving the driver at risk of death.
Charlie was driving his truck and saw the vehicle sparking from the impacts and catch fire. He pulled over and called to the driver to get out, but they seemed dazed and unable to respond. While Charlie helped the driver, his son called 911 to report it.
"I picked her up and carried her away," said Charlie.
The two stayed with the victim until NAFD personnel arrived. Austin said he was worried that if the vehicle exploded, the fire could spread to their truck. Charlie said he wasn't concerned with his own safety, only worried that someone was in danger.
"They needed help and I tried to help them," he said.