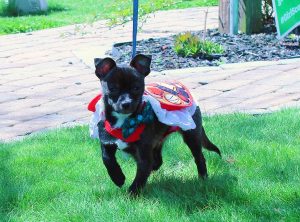 By Max Bowen-max.bowen@northstarreporter.com
After two years away, a hallmark of downtown North Attleborough saw a return.
The Chocolate Stroll, organized by the Downtown Associates of North Attleborough and sponsored by Dyer-Lake Funeral Home, was held on Saturday, April 30 and given the name "Spring Fling." The event is normally held in February around Valentine's Day and was canceled in 2021 due to the ongoing pandemic. This year, with the rise in cases reported in February, it was postponed to April 30, and that will remain the case in future years, according to event organizers.
Around two dozen businesses and organizations set up stands to hand out candy and other treats, as well as inform residents of upcoming events. At the Parks and Recreation stand outside Grace Church, for example, participants got a detailed list of spring and summer activities. At another, information for the Cultural Council's Summer Concert Series was given out. The Rotary Club had fliers for the upcoming fishing derby.
Along with customized and personalized chocolate, sites like the Richards Memorial Library and Oven Essence gave out baked goods. Dr. John Barone gave out information on dental care along with a chocolate tooth, joking that he wasn't giving away candy to get new patients. Del's Lemonade gave out free flavored ices. Axel the puppy, who's become an official community mascot at different events, was a popular stop for children.