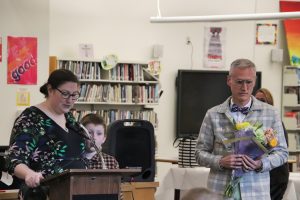 By Max Bowen-max.bowen@northstarreporter.com
Those who have demonstrated a commitment to special needs children were honored for their service during the annual Heroes Awards ceremony.
Held by the North Attleborough Special Education Parent Advisory Council (NA SEPAC), the ceremony recognized educators, paraprofessionals, counselors, and other North Schools faculty who were nominated by the community. Seventeen awards were given out, with presenters offering comments on why the recipients were chosen.
Varsity Cheerleading Coach Patti Johnson and NAHS senior Hailey Davis both received awards and were introduced by Lisa Serek. Her daughter is on the cheerleading team and Lisa spoke to their positive impact. Lisa said Johnson "is North Attleborough Cheer," and establishes clear, realistic goals for the team. She described Davis as having an inclusive and uplifting personality.
"She is one of North Attleborough's shining stars," said Serek of Davis. "She offers endless encouragement and continuous support."
The NA SEPAC Heroes Recognition Program has been established to honor members of the community for their outstanding service and commitment to children with special needs in North Attleborough. Heroes include North Attleborough School Department Employees – both from general and special education classrooms – educators, para-professionals, counselors, gym, art or music teachers, OTs, SLPs, PTs and other professional staff working directly with and supporting individuals with special needs.
Victoria Curran spoke highly of Melissa Desjardins, the first award recipient of the evening. Nominators described her as a force in the North Attleborough schools, going above and beyond for the students.
"I'm not the hero," said Desjardins. "It's all our kids that are heroes. It's the best job you could ever ask for."
Katie Cloutier was among those that nominated bus driver Karl Schaeffer, and said that he gives every child on the bus their own superhero name, including her son, also known as "Ricochet." She spoke of how Schaeffer helped her son to gain confidence, welcoming him to a "superhero family."
"Thank you Karl," said Cloutier. "You are a true superhero."