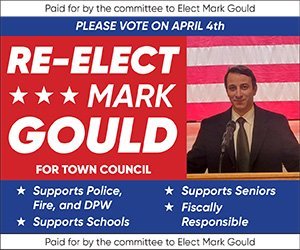 By Max Bowen-max.bowen@northstarreporter.com
Described as "beyond its useful life," school officials are looking into the cost and timeline of replacing the roof at Amvet Boulevard School.
Superintendent John Antonucci said that the roof has been on their radar for some time. It had been part of the town's Capital Improvement Plan, but last year the district submitted Statement of Interests to the Massachusetts School Building Authority. These documents indicated the intention to repair or replace the Amvet and Community schools as well as the high school, which would have been covered in part by the state.
Plans to replace the roof were put on hold until the MSBA determined if the SOI for the elementary schools would be chosen. It was not, and so in March an engineering firm was sent to Amvet to evaluate the roof.
"What we did is spend many trips out there," said Director of Facilities Chris George at Wednesay's School Committee meeting. "It's time—we're going to look into it."
It's estimated that the roof will cost approximately $1 million to replace. The roof was installed in the mid-90s and such things usually last 25 years. Antonucci said there has been a lot of discussion around town about the project, and that it is "not acceptable" for there to be buckets used when the roof leaks.
"We're fighting an uphill battle and investing significant resources," said Antonucci.
The superintendent also addressed concerns raised by some parents that the district is focused on a new playground for the Amvet School. Last week, a letter was sent to the superintendent and local media claiming there has been considerable effort spent on fundraising for a $200,000 playground, while the roof has been ignored.
In the letter, parents expressed their frustration that so much was being done to promote and build a new playground and similar steps should be taken for the roof. The group doesn't oppose the playground, but believes that the roof should be done first. The letter closes by asking that the School Committee tour the Amvet School to see the full scope of the damage, and that fundraising for the playground be stopped until work on the roof is completed.
"While our children would love a playground, our kids also deserve to learn in an environment that is safe, warm and dry," the letter reads. "That is not happening at this moment in time."
Antonucci said that the playground and roof are two separate issues. Town Council President Justin Pare—who sits on the committee—said that it may be possible to get the roof back onto the CIP list for this fiscal year.
"We are firmly committed to address the Amvet roof," said Antonucci. "It's going to require an investment by the community."