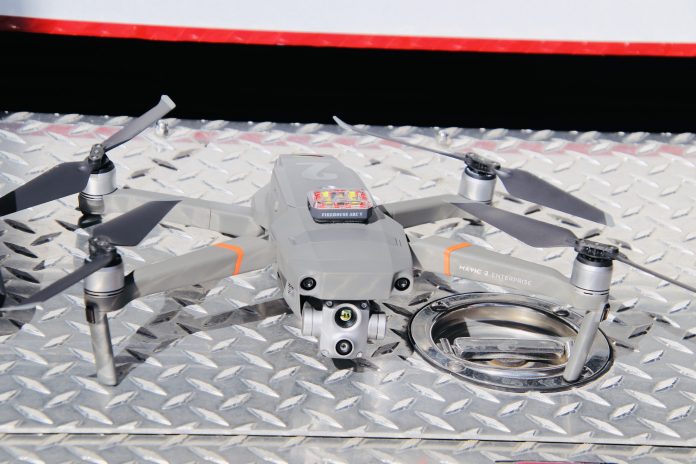 By Max Bowen-max.bowen@northstarreporter.com
From getting a precise scope of a fire to assisting with search and rescues, Fire Chief Chris Coleman sees a lot of potential in the department's drone program.
The department's drone–a DJI Mavic Air 2 Enterprise Advanced quad copter—was purchased in December and requested for two missing person cases earlier this month. It was paid for through the town's Emergency Management Fund and will soon have a team of six firefighters trained on its use. Coleman said the drone is particularly helpful these days, as the department's role has shifted from just fires to a wide range of incidents.
"It makes us versatile, especially with a town like we have," said Coleman.
The chief said that several other towns use drones, including Plainville, Mansfield, and Norton. He added that the New York City Fire Department uses them to get visuals of building fires.
NAFD Lt. Scott Langille has been using drones for years for ground and aerial photography and approached the chief about employing them on calls. He said the DJI line of drones is one of the first companies with a "tried and true" design and an interface that is easy to work with. He pointed to pre-planning and mapping of incidents among its uses, as well for training purposes.
"This is something that I've always had an interest in," he said of the drone.
Another benefit to this particular drone is that it comes with equipment useful for the department, such as standard and thermal cameras and a wireless TV that it can connect to, allowing firefighters to view real-time images. The thermal camera can be used to find heat sources in both building and brush fires, that latter of which Langille said can be difficult to get the full size of visually.
"In order to get an idea of the heat, where the heat of the fire actually is, you need to switch on the thermal sensors on the camera and you will be able to see where the hotspots are," he said.
In addition, the drone is equipped with spotlights and a speaker so the user can call out if someone is lost in the woods. The drone can be ready to use within 30 seconds.
"It's endless opportunities to use it," said Langille.
Drones have a number of rules and regulations through the Federal Aviation Administration (FAA) and firefighters must first complete a training program to get a Part 107 FAA certification for commercial drone pilots. Langille said a team would consist of the drone operator, plus observers to watch the sky for manned aircraft.
Rules that drone users must abide by include not flying near power lines or directly above crowds as well as avoiding aircraft. In one of the missing person cases, Coleman said the drone was recalled when a Mass State Police helicopter arrived. Langille said that drones don't replace manned aircraft, but offer a good tool for all kinds of incidents.
"We'd get called out on scenes to assist with the searches and it lets us get a birds-eye view, an idea of the type of terrain we'd be looking at," said Langille.
Coleman said the department is working on a Computer Aided Dispatch system which the drone could connect to. This will allow the dispatchers to see the same images that the drone does, which could be kept on file and referred to for pre-planning.
"We can give a live feed (of an incident)," said Coleman. "If we have a major fire that covers a huge area, I can physically see remote areas of the fire that we can't see right from the ground."