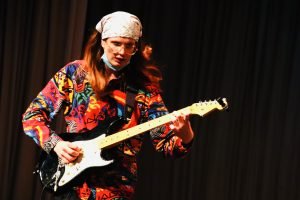 By Max Bowen-max.bowen@northstarreporter.com
From epic drum sets to amazing original music, there was talent of all kinds for an appreciative audience at the annual North's Got Talent show.
Launched in 2018, the annual evening of talent saw intense energy as NAHS students got the chance to show their skills on stage. Nine different acts were seen, and after each performance a panel of judges would offer glowing praise and feedback.
Each student had something unique for their performance. Nicole Shum sang "She Used To Be Mine" by Sara Bareilles and earned the first-place award. She said there was an instant connection with the message and meaning behind the song. Shum has been doing the show since freshman year and said her voice grew with the event.
"It feels amazing to audition and perform again," said Shum. "There is just something about the being on stage that you can't put words to it, it is an indescribable feeling, with the lights, the black out scene in front of you, to all the emotions a performer can get when singing in front of a live audience."
Maya Silver sang a heartfelt rendition of "All Coming Back To Me Now" by Celine Dion. North's Got Talent went virtual when the pandemic forced such events to change, and Silver said not having the audience made it easier to procrastinate but also less stressful. She said doing anything in front of people she doesn't know can be scary, but she focused on her voice instead.
"Once I reopen them, I hone in on a specific person in the audience that I recognize and pretend I'm performing for them only," she said. "It helps make the other eyes fade away. Nerves before the show, I try to take deep breaths and discuss the nerves with fellow performers. It makes it a little better when everyone is a bit nervous and talking about it."
The students performed to a packed house throughout the show. Family and friends cheered enthusiastically for each set, and afterward the students would take questions from Band Director Thomas Rizzo, who helped organize the show. Other performances included stellar drum solos from Andrew Porter and Joe Morin—which won Morin third place—Moriah McHoul's original song "Radioactive High," Joe Kane and Amanda Porter's "Gimme The Night," and the NAHS Dance Team.
Angelina Bau wowed the audience with a dance cover of "Attention" by Charlie Puth and "Bad" by Christopher. Bau said she's been teaching herself dance for years by watching her favorite choreographers. This was her first time in the North's Got Talent show, though she has performed in middle school.
"After tons of practicing, I've definitely improved a lot since then and I am more confident in my skills," said Bau. "It's a bit nerve wracking, especially because of how large the crowd will be, but overall I'm super excited to share what I've been working on."
Grace Nobrega's passionate performance of "Counting Stars" by OneRepublic earned her a thunderous ovation and the second-place award. She credited Choir Director Rob Couture with the idea and encouraging her to perform. She thought it would be a fun experience, though a little nerve-wracking.
"I tell myself to just do it, and try my best, but most of the time I am still really nervous," said Nobrega. "In the end, however, I am always happy I did it."