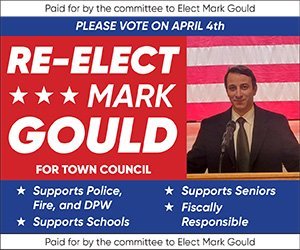 By Max Bowen-max.bowen@northstarreporter.com

An initiative to support the town's struggling small businesses has received the nod from Town Council.
Big Red Bucks—first proposed last November—was approved unanimously by the Town Council at its Feb. 16 meeting. It's aimed at revitalizing the struggling locally-owned businesses and provides a voucher when customers spend a certain amount of money at a participating business. This voucher—plastic cards known as Big Red Bucks—can then be used at others in the program.
In its first year, 25 businesses can participate in Big Red Buck if they choose do so. St. Patrick's Day is the targeted launch date.
Town Manager Michael Borg has met with the Town Council, local businesses, and most recently, the Finance Subcommittee, which recommended approval. At the council meeting, FinCom Chair Joann Cathcart said that the vouchers would be worth $5 apiece. She said that this amount was agreed to by the owners, who felt a higher amount would prove harmful.
"This will be turned over to the businesses after the first year," said Cathcart of the program.
These cards would be provided by the company SwipeIt and given out when a customer spends $50, with a cap of $300 per visit. If a business is not using the cards, they can transfer them to another that is. The criteria for participating businesses is that they have 25 or fewer employees. The council approved $30,150 to be transferred from the town's American Rescue Plan Act (ARPA) funding, with $25,000 to be used for purchasing the cards and the remaining $5,150 for advertising.
One concern raised by owners was that if the program was unsuccessful, SwipeIt would have walked away with the money. Borg said that after an end date to be determined, the money given to SwipeIt for any cards not used would revert to the town.
"Once we hand over the program (to the businesses), if there are any funds left, we would use it for something else," said Borg. "It's an abject failure if we're still holding onto it."