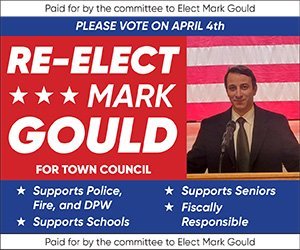 By Max Bowen-max.bowen@northstarreporter.com
Citing a successful first year marked by progress on a number of issues, State Rep. Adam Scanlon (D-North Attleborough) has announced he will pull nomination papers this week for another term.
In a statement sent Tuesday evening, Scanlon wrote that among the highlights of his first term was receiving news late last year that six of his bills were reported out favorably in respective committees. This includes three for improved resources for veterans, a judiciary bill protecting persons with disabilities, a bill implementing a tax cap for low-income seniors, and a vocational education bill improving access to these services.
In his statement, Scanlon added that Gov. Charlie Baker filed language in his proposed budget around doubling the cap on the Senior Circuit breaker tax credit, similar to the language in one of his bills.
"We have had much success, but our work is not done yet," Scanlon wrote. "We will improve our local infrastructure as well as protect our environment. We will bring tax relief to our seniors. We will expand vocational and workforce opportunities for all those that seek them. We will continue to bring back resources to our community. Most importantly, I will continue to be a transparent legislator and always available to help a constituent in need."
Scanlon was elected in the fall of 2020 and took office last January, representing North Attleborough, Ward 3, Precinct B of Attleboro, and Precincts 1 and 5 of Mansfield. This marked a shift in state politics for the district, as it was the first time in nearly four decades that a Democrat had been its representative. He is now in the second year of his first term in office.
In his statement, Scanlon spoke to the constant connection that he maintains with local officials and leaders of different organizations, which he said helps keep him apprised of the issues facing the district. In North Attleborough, this includes PFAS in the town's drinking water, flooding in the Ten Mile River, funding for the WWII pool and the renovation of Allen Avenue School to become a senior center.
A more recent issue which Scanlon said he has supported since his time on the School Committee is the Statements of Interest that the district has filed with the MSBA to seek state funding to renovate its schools. Recently, the town was notified that its SOI for the high school may be chosen to proceed to the Eligibility Phase.
"Adam understands the high importance of strong collaboration between our state and local leaders," wrote Town Council President Justine Pare in the statement. "He has helped ensure that our district has a place at the table by bringing back many important resources to the area and by being a strong voice for our community as we work together to make the Hockomock region an epicenter of success in our Commonwealth."