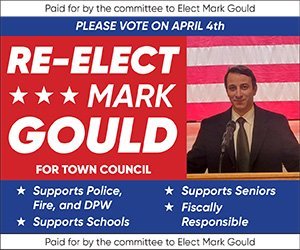 By Max Bowen-max.bowen@northstarreporter.com
Seven of the 30 businesses that sell tobacco products in North Attleborough will have to pay a $100 fine for selling to minors.
The seven businesses went before the Board of Health on Feb. 8 to address incicnts where staff sold cigarettes or other tobacco products to minors as part of a compliance check done in October by the Massachusetts Tobacco Cessation and Prevention program. Each business—some of which have been before the board in the past—was given a $100 fine in accordance with state law.
Board member John Donohue said that those busineses should look at this as a wake-up call, that the fine could have been much higher. He said is was disconcerting that nearly a fourth of the town's businesses that sell tobacco failed to pass this compliance check.
"It could have been a $1,000 fine for your lack of discretion in checking Ids," said Donohue. "The last thing we want to do is hand out fines. This is a tough enough business that you're doing. Take this as a wake-up call so that in the future you don't end up before us again."
Meetings with the owners or managers were brief, and all expressed regret over what had happened. In some cases, those employees responsible for the violation were terminated, while others were re-trained. Bek Nakarmi, who runs the Pick N Pay on S. Washington Street, said that training is done when a new hire begins. He added that in this instance, the clerk thought the minor was a regular customer.
"This was their first time, he was doing a tremendous job," he said. "It happens—the mistakes."
Robbie Young, director of operations at Shell Food Market on E. Washington Street, said that there is an extensive video training program given to new hires on their first day, and they are supervised for five days before working alone. The company does its own regular compliance checks.
"Before they (new employees) touch the register they watch this video and they go through this orientation, which is four hours long," he said.
Businesses that failed the compliance check
7-Eleven—591 Kelley Blvd.
Pick and Pay—54 S. Washington St.
Sam's Food Mart—120 S. Washington St.
Stevens Market—205 Smith St.
Shell Food Market—461 E. Washington St.
Speedway—788 E. Washington St.
Cumberland Farms—573 Kelley Blvd.