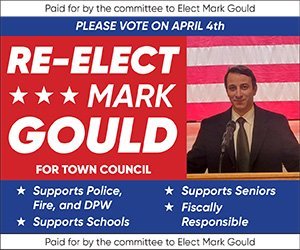 By Max Bowen-max.bowen@northstarreporter.com
Last week, Coach Donald Johnson brought a 39-year career with the North Attleborough High School football team to a close.
Johnson retired from teaching in June of 2020 as the Social Studies Department Head and AP Psychology teacher and said the timing was right to bring his coaching career to an end. He added that having gotten a look at what retirement was like played a part in his decision.
Johnson will continue to be in the role until a replacement is chosen, a process that is already underway. Though the football season has yet to begin, he said the players are well underway in their training and some seniors have been chosen to play for certain colleges.
"The program was in good shape and it's time to turn my attention to other things," said Johnson.
From player to coach
Johnson's decision to become a coach began when he was a member of the NAHS team from 1975-1978, becoming a Shriner's All-Star in the first game. He also played for Holy Cross from 1979-1982. He said that the experience showed him that both coaching and education were something he'd like to pursue, and in 1983 he joined the teaching staff at NAHS and became an assistant football coach.
Johnson was the assistant coach for 26 years, with a record of 211-51-6. During those years the team won nine Hockomock League Championships, earned seven Super Bowl appearances, won five Super Bowl Championships, and only had two losing seasons.
As assistant, Johnson worked with head coaches Kurt Kummer Paul Sullivan, and Ray Beaupre. From these, Johnson said he learned a "tried and true" method of coaching—that it was a total team effort. Johnson remembers staying up late watching films of the games, going to coaching clinics, and always learning. He said that when someone thinks they know it all, it's a bad sign.
"Everyone had a role to play and you did what was necessary to make the team and program better," said Johnson.
Kummer was the head coach prior to Johnson, and described him as intellectual and detail-oriented. He said that Johnson would review tapes of the opposing team before a game and break down what he saw to determine the likely strategy. At practice, he'd work with the players to best prepare for what the other team could do, but also on how their own plays might be countered.
"It was all mental, he thought them all through," said Kummer. "It was well planned, he didn't leave anything unturned."
Kummer said that Johnson shifted easily to the head coach's role and that the transition was a natural one. Over the course of the month the school will review applicants for the position, and a couple people have already inquired.
A winning 13 years
Suffice it to say, Johnson did very well when he became the head coach in 2009. The team had a record of 103-37, won six Hockomock League Championships, made two Super Bowl appearances, and only had one losing season. In addition, two NAHS players—Anthony Sherman and Chris Sullivan—played for the NFL, with Sherman being on the Superbowl-winning Kansas City Chiefs in 2020. Johnson described Sherman as a gifted athlete, with a toughness not often seen.
Last season, the Red Rocketeers made it to the MIAA State Championships, but lost to Marblehead by a score of 35-28. Johnson said that a season isn't just about who wins and loses, and said that all in all, the last season was a positive one.
"We're fortunate to have a lot of success along the way," he said.
The last two seasons were badly impacted by the pandemic, but Johnson said that in athletics, one develops a resistance to these kinds of things.
"It just became another challenge that you had to take on," he said. "It certainly was more stressful, but to be able to compete with the kids, you really grew to appreciate what you had."
As difficult as it was balancing teaching and being assistant coach, Johnson said that being head coach was tougher. Many nights he'd be up past midnight getting everything done for his classes or preparing for a game. He credited the other teachers in his department as being great to work with.
"I will miss those late nights," he said. "It becomes your routine and lifestyle, that's the routine of coaches. Staying up and watching films, it's that challenge that you wake up to."