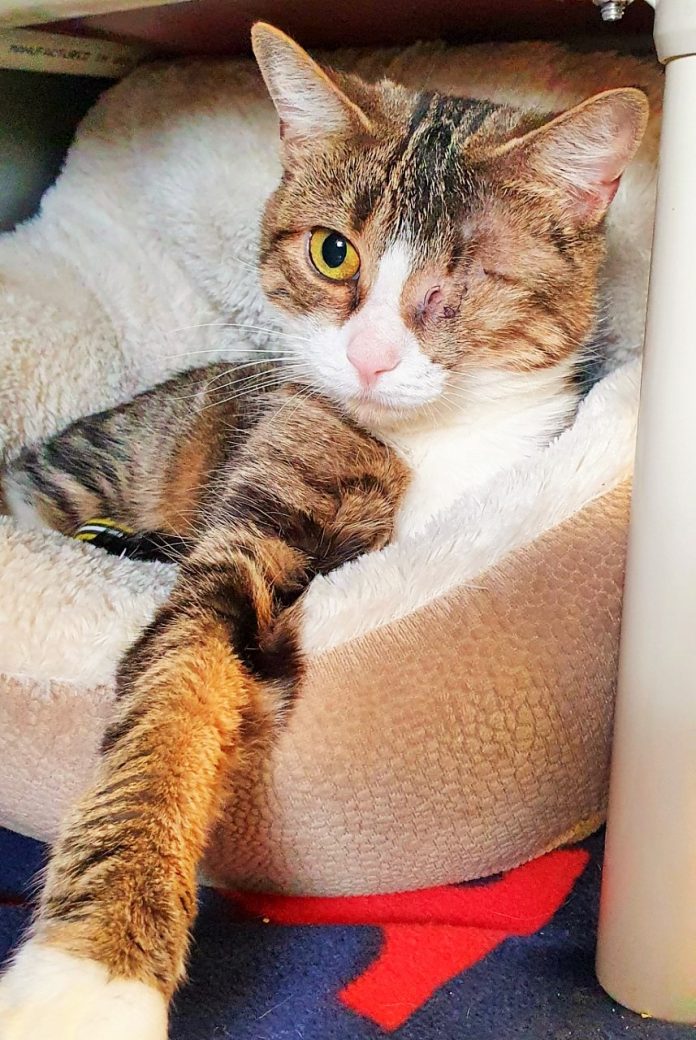 Claire is probably the sweetest little kitty you will ever meet. She is about 1 to 2 years old and came to the shelter with her kittens and is was the best momma cat ever. She is always looking for hugs and affection.
Claire is not your typical cat—she has never had a grumpy cat day in her life. No hissing or swatting ever—she just rolls on her side for her daily rubs. Unfortunately, Claire came down with upper respiratory and even though being treated she ended up losing her eye.
She is very healthy and happy cat with lots of love and kindness to share with the lucky person who takes her home. This is an adoption that some family will cherish for many years to come. Claire is up to date with all her vaccines, is FIV and leukemia negative and is spayed and microchipped.
If you are interested in Claire or any of the wonderful animals at NAAS, please call 508-669-0128 or email us at Fcamara@nattleboro.com.
Even if you are not currently looking to adopt an animal, help the shelter by donating one of the following items: 39 gal or greater garbage bags, bleach, paper towels and moist cat food pate, dry cat, and kitten food, and fresh veggies.
The shelter also collects returnable bottles, cans, and glass at the shelter this helps the animals in various ways.