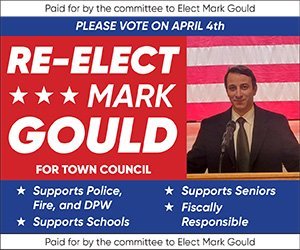 By Max Bowen-Max.bowen@northstarreporter.com
North Attleborough played a strong game in the semifinals of the MIAA tournament, and Coach Don Johnson said that those new to the team really made their mark.
The Red Rocketeers defeated the Billerica Indians 28-10, and Johnson said it wasn't until the fourth quarter that things seemed to be well in hand. Co-Captain Tyler DeMattio continued his strong presence seen throughout the season, scoring all four touchdowns in the Nov. 20 game at Veterans Memorial Stadium.
"He's had a great year," said Johnson on Sunday.
Johnson also credited captains Tyler Bannon and Jared Vacher with a strong showing in the game. He said Bannon was great on defense and Vacher was skilled on both offense and defense. Chase Frisoli is new to the team, and Johnson said he's shown great potential, as have the other newcomers.
"The new players have grown and developed immensely," he said. "Especially with Chase. It's rare to have someone with that maturity and he's playing like a seasoned veteran."
The game on Nov. 20 was a close one, with Billerica taking the lead at 10-7 in the second quarter. North came back quickly, leading 14-10 and building on that in the third and fourth quarters. Johnson said North hasn't played them before, but knew the team has a strong winning tradition in post-season games. They studied several game films beforehand and in the early minutes of the game, Billerica showed itself to be a tough team, making the Red Rocketeers earn every yard.
"They were definitely as advertised," said Johnson.
Going on to the finals at Gilette, Johnson said that the team is very excited about the opportunity. The last time North got to the finals was in 2017, and the last Super Bowl win was in 2004. It's the school's 11th time in the finals and their record is 7-3. Their opponent, Marblehead, is 10-0 for the season.
Like Billerica, North has no firsthand experience and will rely on films provided by their opponents. Johnson added that with the Thanksgiving game and the finals so close together (that game will take place on either Dec. 2, 3, or 6), getting rest when they can is imperative, and so North's team got a day off before resuming training on Monday.
"They're really excited-it doesn't happen too often," said Johnson of the finals. "To play in the big stadium, it's really fun to stand there and see the expressions on their face as they walk in."