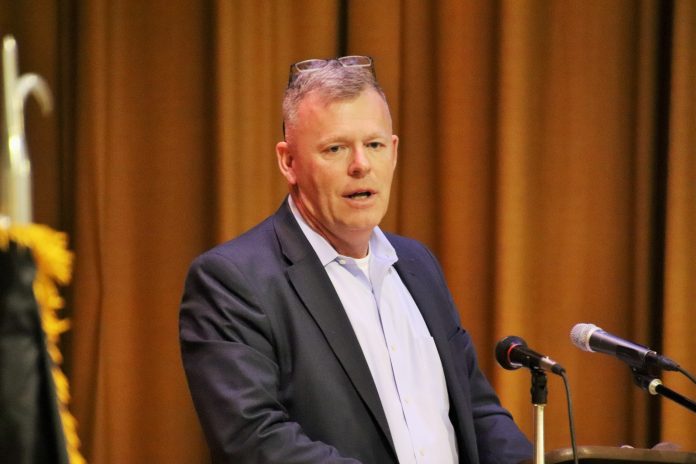 By Max Bowen-max.bowen@northstarreporter.com
When you thank someone for their service you're thanking their family as well, because whether they've worn a uniform, they have made a contribution.
Retired U.S. Army Colonel Town Manager Michael Borg spoke of this and other aspects of service at the Veterans Day ceremony held on Nov. 11 at Community School. During his time in uniform the Borg family had to move many times. Of his four children, he said only one spent all four years in the same high school, and that much change can be difficult.
"Everybody's served in some way, shape, or form," said Borg.
The town manager shared some lighthearted tales from his years in the Armed Forces. He joked that the army likely invented paperwork, and how there were countless acronyms, or how you couldn't go wrong by placing the letter M in front of something. He told those assembled about a time when he was returning home from a deployment in Bagdhad. At the airport, a stranger ran up and thanked him for his service and another gave him their phone and told Borg he could use it to call his family. He said that not everyone who served gets that kind of response, and it's sad to see.
"I just got off the plane and they say thank you for your service, it really struck me," he said.
State Rep. Adam Scanlon said he was honored to be at this event and spoke of the 365,000 veterans living in the State of Massachusetts. He thanked those who served, but also those working in the Veterans Agent Office and VFW posts in North Attleborough.
"They wear their hats proudly," he said of those who served. "And we want to say thank you."
Scanlon also spoke to the history behind the holiday and how those who have recently served sometimes have a difficult time coming home.
"I promise that as your state representative, I will always remember your sacrifice and continue to advocate for every ounce of support we can offer," he said. " Every day we remember you, we celebrate you, we appreciate you."
The Town of North Attleborough shares some of its veterans duties with Plainville, and so Plainville Selectman Chairman Brian Kelley was among the speakers. He said those who served share an unwavering belief in freedom and people are grateful for it, raising their children to understand how fortunate they are.
Kelly said the purpose of Veterans Day remains unchanged, to honor the sacrifice that so many made.
"That's a debt we simply cannot repay," he said.
Town Council President Justin Pare recalled when his father came home after serving in Vietnam, he was spit on or had trash thrown at him. He said it wasn't right, and it was because of that that the town comes together.
"In this community of ours, we stand together and we remember," said Pare. "Today we honor all veterans and thank their for their service and sacrifice."