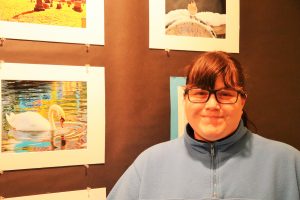 By Max Bowen-max.bowen@northstarreporter.com
Whether you're a fan of photography or enjoy acrylic painting, there's something for any art lover at the Richards Memorial Library.
In the hallway of the building's lower level, four local artists have a collection on display through the end of the year. Kristine Moore of Plainville, Em Varosky and Neha Pushp of North Attleborough, and Kasha Swiatkowski of Norton responded to an ad seeking artists.
Adult Services Librarian Marjorie Johnson said the bulletin boards in the hallway—which leads to the library's meeting room—have been used for similar displays in the past, including work by students at North Attleborough High School.
"I do think anyone who is interested in art likes to see it," said Johnson. "It's beneficial for the artists too—they like to have a venue to display their work."
Varosky has been a familiar face at the town's farmers market, as well as others in Boston and the Milford Pumpkin Festival. She has a B.A. in graphic design and began designing her own cartoon cat, dragon and octopus (she joked that it was originally going to be a cactus).
"I never could figure out even in college what my style was supposed to look like," said Varosky. "Because you can do anything, but what do you want to do more of?"
From there she launched her business EmVaro Designs last May, selling her designs on t-shirts, coffee mugs, and stickers. She said the message of the work is to find balance in life and not just be all about the work, a lesson she has learned from personal experience over the years.
"You need to do the things, but if all you do is doing the things you're going to burn out," she said. "So you also need to balance that with the me-time."
Swiathowski got her start in art by watching her father, an acrylic and oil painter. She chose pastels and took adlt education art classes, going on to study under Rhode Island artist Herman Itzkowitz. Photography and the piano have also been a part of her artistic world. Pushp loved drawing and painting from a young age, focusing on multiple mediums. At her parent's encouragement, she enrolled in art classes, working toward oil painting. During her time in college and pursuing a career, art took up less of her time. Once she was settled with her job and family, she found the time to draw and paint again.
"Now art has become my 'hideout,'" she said in a statement. "When I have some free time, I jump to it."
Moore is the owner of Moore Than Nature Photography, and the natural world has provided all sorts of inspiration, whether that's photographing friendly hawks or capturing a picturesque mountain view. She said that photography has been an interest of hers since childhood. She received her first digital camera in high school, eventually moving on to her iPhone as the technology improved. Her current camera is a Nikon 3000, a gift from her parents.
"It just kind of snowballed from there," said Moore, adding that she is entirely self-taught.
In 2018 she purchased a DJI Phantom 3SE drone and began taking aerial photos, and at the encouragement of family and friends, started her business, quickly finding a customer base with area markets.
"If it catches my attention, and I think it might be interesting photo later on, I'll try to snap it as quick as I can," she said.
When it comes to getting the perfect photo, Moore said that it's a combination of timing and patience. One photo of a Tufted Titmouse on a snowy day took some time to capture, while another of a cloudy mountain at Franconia Notch State Park was a "right place, right time" situation.
"There have been times where I will sit in the backyard for a while to play nice and let me take their picture," she said of the birds. "Cardinals especially they hate getting their pictures taken."