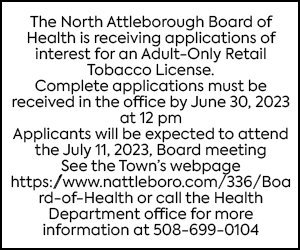 By Max Bowen-max.bowen@northstarreporter.com
Hundreds spent their mornings in the dark following a powerful Nor'easter Tuesday evening.
According to North Attleborough Electric's Director of Operations Carl Johnson, three significant outages were reported. The first was at 8:30 Tuesday evening that affected 340 people in the Hoppin Hill Avenue area. A tree came down on the primary line and had to be spliced back in. Power was restored in 45 minutes. A similar outage was reported around 6:25 a.m. that knocked out power to 187 customers in the areas of Towne Street, Toner Boulevard, Commonwealth Avenue and North Avenue. Power was restored a short time later.
The most serious was on Reservoir Street, and left 590 customers without power for much of Wednesday. Johnson said a tree came down on the wires and broke two utility poles. Crews worked during the day and Johnson said power should be back on this afternoon. He said the high number of customers was due to the condo units nearby.
"It's a highly dense area for customers," said Johnson.
Department of Public Works Director Mark Hollowell said crews were out Wednesday morning clearing downed trees and branches. The sweeper will be out the next couple of days to clear fallen leaves.
"The focus now is we got it all opened up," said Hollowell, referring to the roads. "Just getting stuff off the road tonight."
Hollowell said that trees will be delivered to the composter tomorrow, and it will be closed on Thursday, reopening to the public on Friday. He added that trash delivery was done on schedule, but several residents kept their trash toters inside due to the storm, and another pickup won't be done this week.
According to the The Weather Channel, power lines and downed trees were reported across New England, with more than 600,000 homes without power. Winds reached 84 MPH on the coast. Several boats were damaged or sunk, and the ferries were closed. Extensive flooding was reported in New York and New Jersey.